NAND supply limited; Apple places large order of 8GB chips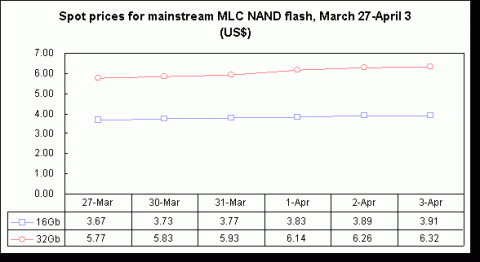 DigiTimes has a report that claims that Apple has placed an order of 100 Million 8GB Flash NAND chips from manufacturers, mostly from Samsung. As a result, analysts are saying that supplies will be short until about May. As a result, prices of NAND chips have jumped as much as 16%.
Low supply and higher demand will drive the prices up for the near future. DigiTimes cites their source:
As Toshiba, Hynix Semiconductor, Intel and Micron Technology have allocated less chip supplies to the Asia market since early April, downstream memory suppliers are striving to grab more NAND flash chips to meet substantial volumes of short lead-time orders from device makers, the sources indicated.  Spot prices for mainstream MLC NAND flash trended upward during the week of March 27-April 2, as a result of tightening supplies, data gathered by inSpectrum show.
This move by Apple is a good sign for those looking forward to a new iPhone this summer. Apple has been known to place large orders of NAND chips and other supplies right before a large product launch.  This could be a signal for a new iPhone, and provide the supplies for the next generations of iPods as well.  The iPhone 3.0 software update announced in March is expected to be released at the WWDC in June, and many are expecting the announcement of a new iPhone as well.