Naim for Bentley unveils premium wireless speakers for the home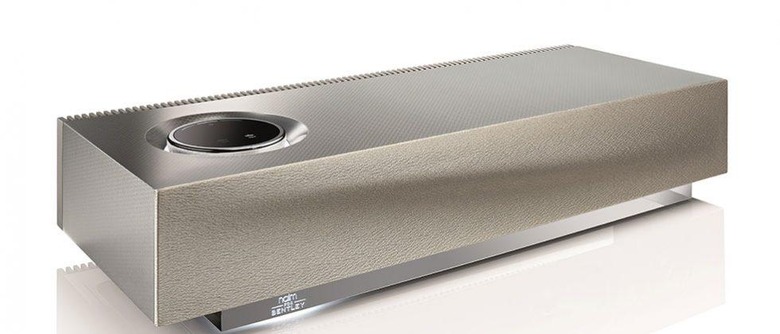 Naim and Bentley have teamed up on a new line of luxury wireless premium speaker to bring audio to your entire home. The audio devices are called the Naim for Bentley Mu-so an Mu-so qb premium wireless speaker systems. Naim says that these speakers were inspired by 100 years of Bentley heritage.
Wearing the Bentley name means that these wireless speakers are made using luxury materials, exclusive colors, and signature patterns. Both the speakers support high-resolution streaming of your favorite music into multiple rooms. Streaming is supported from just about any source you can think of. Bluetooth connectivity links the speakers to your smart device or audio system.
Supported streaming services include Spotify, internet radio, Airplay and other downloaded music. The speakers can play in up to five rooms at the same time and the quality is familiar to Bentley owners since Naim for Bentley audio systems are available on all Bentley cars.
The rotary knobs on the speakers have the signature Bentley knurling. The speaker cabinets are wood and then wrapped in anodized aluminum for natural sound with less distortion. The speaker grille is finished in a signature Bentley color called Portland. There are a few key specs that we don't know right now including the price and availability. As far as the price goes, these speakers wear the Bentley name so expect them to be expensive. If you want to know more about Bentley, we went for sem time in the 2017 Bentley Mulsanne Speed recently that ticks in at a cool $400,000.
SOURCE: Bentley