N-trig and Fujitsu working on multitouch displays for 10+ fingers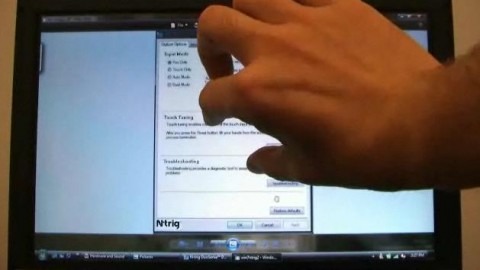 Multitouch chipset firm N-trig have announced a partnership with Fujitsu to produce their next breed of DuoSense touchscreen controllers.  The next-gen DuoSense system will not only be smaller than the existing version, but require less power and recognize "10 or more simultaneous touch points at very high refresh rates."
The technology will come into its own when Windows 7 launches officially later this year, bringing with it native multitouch support.  Whether or not users will initially want to bring all ten of their fingers (and then some extra digits, wherever they source them from) into play, we're likely to see new software taking advantage of multi-user interaction courtesy of the newly-raised resolution.
N-Trig's DuoSense system is already available on certain Dell and HP models, and more notebooks using the multitouch panel are expected later on in 2009.  In this new partnership, Fujitsu will be responsible for manufacturing the next-generation chipset; presumably they'll also use it in their own tablet PC products.  
Press Release:
N-trig and Fujitsu Partner to Help Make Hands-On Computing Faster and More Fun

Technology Partnership Demonstrates Strong Technological Development to Stimulate Multi-Touch Computing for OEM and ISV Market Growth

LANGEN, Germany & KFAR SABA, Israel –(Business Wire)– Jun 30, 2009 N-trig and Fujitsu Microelectronics Europe (FME) today announced they have reached an agreement to co-operate on N-trig's next-generation chipset, to be developed by N-trig and manufactured by Fujitsu Microelectronics. The combined efforts of the two technology leaders will provide both the consumer and enterprise markets with the best pen and multi-touch computing experience with multiple simultaneous touch points being recognized.

N-trig's DuoSense® technology, which combines pen and multi-touch capabilities, is utilizing Fujitsu's extensive silicon technology solutions and long, reliable history of high-quality products and established production facilities to offer end-users the most efficient and natural means to Hands-on computingTM. By providing enhanced feature sets for OEMs and ISVs, this partnership will help meet rapid market growth as demand increases for multi-touch-enabled systems.

"We are delighted to be working with N-trig and are committed to bringing our customers the very best technological differentiators to help fuel innovation and development. N-trig has an excellent reputation as a provider of innovative pen and multi-touch devices," said Dirk Weinsziehr VP of Marketing and Engineering at FME. "Fujitsu offers its leading-edge technology and related assets to all custom IC users. A worldwide support programme is fully prepared and proven."

"Fujitsu's cutting-edge technology enables us to substantially increase our performance and maintain our leadership position in the industry, which in turn is driving superior interactions with Hands-on computing," said Yaki Luzon, VP R&D and Engineering, N-trig. "We are committed to continuing to strengthen and advance our supply chain as the Hands-on computing market expands with stronger computer offerings from OEMs and new creative applications from ISVs that are attracting noteworthy consumer and enterprise attention."

The next-generation chipset will provide increased processing power while reducing power and mechanical footprint, allowing significant miniaturization, and access to additional market segments for the PC industry. The new chipset will enable 10 or more simultaneous touch points at very high refresh rates.

N-trig's DuoSense technology is available on the Dell Latitude XT/XT2, HP TouchSmart tx2 and will be offered on additional designs this year.

About Fujitsu Microelectronics Europe

Fujitsu Microelectronics Europe (FME) is a major supplier of semiconductor products. The company provides advanced systems solutions to the automotive, digital TV, mobile telephony, networking and industrial markets. Engineers from design centres dedicated to microcontrollers, graphics controllers, mixed-signal, wireless, multimedia ICs, ASIC products and software development, work closely with FME's marketing and sales teams throughout EMEA to help satisfy customers' systems development requirements. This solutions approach is supported by a broad range of advanced semiconductor devices, IP, building blocks and software.

For more information, please see: http://emea.fujitsu.com/microelectronics

About N-trig

N-trig is revolutionizing the way people interact with computers by providing the industry's first dual-mode pen and touch input device. N-trig's DuoSense technology is the only combined pen, touch, and multi-touch interface for today's advanced computing world. N-trig's DuoSense dual-mode digitizer uses both pen and zero-pressure capacitive touch to provide a true Hands-on computing experience for mobile computers and other digital input products over a single device. DuoSense enables greater mobility and usability in the next generation of computing devices and notebook PCs, enabling new market opportunities for OEMs and ODMs to introduce computer products that offer a more intuitive and interactive experience. N-trig's digitizers are easily integrated, support any type of LCD, and keep devices slim and light. N-trig's technology can be implemented in a broad range of products from small notebooks to large format LCDs and can support a variety of applications including mobile, notebooks, convertible and all-in-one computing, gaming, entertainment, multimedia and more. Founded in 1999, N-trig is headquartered in Kfar Saba, Israel with offices in Austin, TX and Taipei, Taiwan.

For more information, please visit www.n-trig.com.