N-trig 22-inch MultiTouch touchscreen with pen & finger input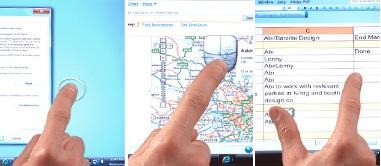 Touchscreen manufacturer N-trig could be the people to bring my large-scale multitouch dreams to fruition.  While Microsoft's Surface is way too expensive, and DIY versions a little too complicated for the average Joe, N-trig are claiming that their DuoSense screens are ready for OEMs and ODMs to start integrating in mainstream products.  Combining both digital pen input and capacitive touch, DuoSense offers all the usual MultiTouch features including rotating, stretching & shrinking and playing multi-player games.Check out the demo video of N-trig DuoSense in action after the cut
So far the technology works in panels up to 22-inches in size.  Smaller, yes, than many of the MultiTouch systems we've seen, but big enough for a decent desktop display.  Ten finger movements in all are supported, as well as using the digital pen to make notes and sketches.  DuoSense can recognise an unlimited number of simultaneous touch-points.
The screen is on show at the Society for Information Display's (SID) Display Week 2008, currently running in Los Angeles.  N-trig is yet to reveal which – if any – manufacturers have picked up the panel, as well as how it is priced compared to traditional touchscreens. 
Press Release:
LOS ANGELES –(Business Wire)– May. 20, 2008 N-trig, the provider of DuoSense(TM) technology combining pen and zero-pressure touch for mobile and fixed computers into a single device, announced today that its DuoSense(TM) technology now has full multi-touch capabilities designed for large format displays. N-trig is introducing its latest technology breakthrough at the Society for Information Display's (SID) Display Week 2008 – Booth #955, which is taking place May 18-23 at the Los Angeles Convention Center.

"N-trig is again raising the bar on the meaning and application of full multi-touch capabilities for large format displays, which will enable OEMs and ODMs to create a user experience that is so immersive that the line between the digital and the physical blurs," said Amihai Ben-David, CEO of N-trig. "By enabling an unlimited number of other people to use their hands to naturally manipulate digital on screen objects, images and more, DuoSense's full multi-touch technology brings the user-computer interaction into a new realm, further breaking down the barriers between man and machine."

What Full Multi-Touch Enables You to Do

Currently, N-trig's full multi-touch works on displays measuring up to 22 inches and recognizes an unlimited number of simultaneous touch points, allowing people to efficiently work and collaborate using a single platform. Full multi-touch makes using a computer even more intuitive and natural, enabling you to:

– Handle documents on the computer desktop like you would on a real desk, moving or pushing them aside with your hands

– Make sketches and scribble notes using a pen

– Shuffle photos with both hands

– Play games with multiple players touching the surface simultaneously

Unlimited New Applications

N-trig's DuoSense technology changes the paradigm of human interactivity, taking the user to the next level of computing, gaming, multimedia, and new types of user applications never before available. Full multi-touch enables OEMs to create new platforms and products that offer their customers a more personalized, hands-on, interactive experience. It can be used in a wide variety of applications, including all-in-one devices, gaming, multimedia portable consoles, information kiosks, collaborative design, entertainment, broadcasting, education, and more. Be they in horizontal or vertical form factors, the possibilities are endless.

"We're provoking the imaginations of our customers, setting the stage for OEMs, ODMs, and ISVs to develop a huge range of new applications," concluded Ben-David. "True multi-touch offers an unprecedented experience which takes people to new levels of what they're able to do with computing devices."

Video on YouTube Demonstrates N-trig's Full Multi-Touch Technology

N-trig's newest video shows and explains what can be done with full multi-touch technology, demonstrating the 10 finger movements, moving and snipping pictures and sending them off in an email, manipulating Virtual Earth, and showing two people playing a hockey game. The video can be viewed at: http://www.youtube.com/watch?v=GeWN2p6jYaA.

About N-trig

N-trig is revolutionizing the way people interact with computers by providing the industry's first dual-mode pen and touch input device. N-trig's DuoSense(TM) technology is the only combined pen, touch, and multi-touch interface for today's advanced computing world. N-trig's DuoSense dual mode digitizer uses both pen and zero-pressure capacitive touch to provide a true Hands-on computing(TM) experience for mobile computers and other digital input products over a single device. DuoSense enables greater mobility and usability in the next generation of computing devices and notebook PCs, enabling new market opportunities for OEMs and ODMs to introduce computer products which offer a more intuitive and interactive experience. N-trig's digitizers are easily integratable, support any type of LCD, and keep devices slim, light and bright. N-trig's technology can be implemented in a broad range of products from small notebooks to large format LCDs and can support a variety of applications including mobile and all-in-one computing, gaming, entertainment, and multimedia. Founded in 1999, N-trig is headquartered in Kfar Saba, Israel with offices in Austin, TX and Taipei, Taiwan. For more information, please visit http://www.n-trig.com.