Mystery Motorola touchscreen smartphone/MID appears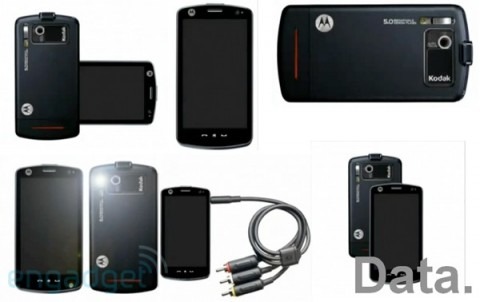 An image of an unannounced Motorola device has found its way to Engadget, suggesting the company is working on a large touchscreen-based smartphone (or possibly a small MID) with Kodak optics and TV-out connectivity.  Details on the handset – which came from an anonymous tipster – are scant, but going by the image the unnamed Motorola will have a 5-megapixel camera with lens cover and Xenon flash.
Otherwise there's a lot of the HTC Touch HD in the design (perhaps difficult to avoid if you're making a predominantly touchscreen handset).  Unknown at present is what OS Motorola intend the device to run; none of the visible buttons (in what could admittedly be just a concept render, if the image is even legitimate) match up with either Android or Windows Mobile requirements.  That could mean that the necessary keys are on the sides of the device, or they could be touch keys, similar to those on the the Touch HD, which are not illuminated in these images.
We're holding out hope that this is Motorola's first Android device, with a large display (3.5 to 4-inches would be great) and plenty of multimedia functionality.  High-definition output would certainly put that AV cable to good use, and having Android as the OS would allow the display to be a capacitive, rather than resistive, touchscreen.