Mysterious T-swivel device is actually the Compal Tabasco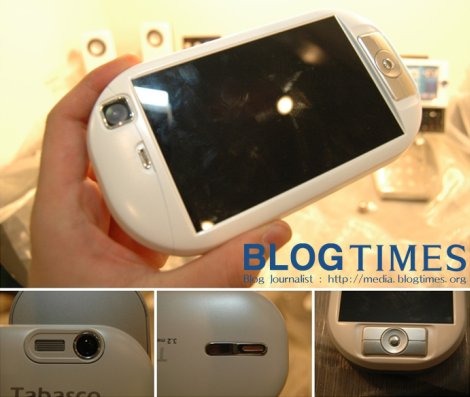 We all have seen the mysterious T-swivel device with a full QWERTY keyboard floating around the Internet the last few days. Many smartphone websites immediately tagged this handset as the new Palm Roteo. The fellow who originally snapped the photos has been tracked down and has given many more details as to what this device is.
It turns out this oddly shaped device is the Compal Tabasco MID prototype. This device was reportedly on display at Computex 2008 back in, but apparently did not draw too much attention for obvious reasons. The swiveling handset appears to have either a 4.5 or 5-inch screen, which almost makes up for how large this gadget is.
The non-working display unit has a 3.2-megapixel camera with 2x optical zoom and flash, forward facing webcam for say video calls, full QWERTY keyboard and touchpad with mouse keys. We are very curious as to whether or not we will se an update model of the Compal Tabasco at CES in January. We are still unsure if any of these specs will make it to the final version.