My hometown gets an upgrade to EV-DO Revision A!
Sprint announced the immediate availability of EV-DO Revision A for Wichita and Kansas City market.  While I no longer reside in those two cities, I still fly in an out visiting friends and family.  Thanks for the EV-DO Rev A love – Sprint!
Customers in Sprint's new Revision A market enjoy upload speeds of 350 to 500 Kbps and an average download speed of 600 Kbps to 1.4Mbps.  This is a significant jump, compared to regular EV-DO networks crawling at 50 to 70 Kbps up and 400 to 700 Kbps down.
Upgraded EV-DO Revision A coverage will be available throughout most of the metropolitan Kansas City area including:
–  Kansas City International Airport
–  the downtown area
–  Most of the I-70 corridor west to Topeka, Ks. and east to
Houstonia, Mo.
–  Much of the I-35 corridor south to Melvern, Ks. and north to
Liberty, Mo.
–  In and around Lawrence, Leavenworth and Overland Park, Ks.
Coverage in the Wichita area includes:
–  the downtown business district
–  Wichita Mid-Continent Airport
–  and south on the I-35 corridor to the Oklahoma border, north
to Cassoday and west to Greensburg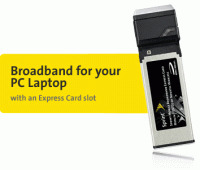 It's also worth the addition of the Merlin EX720 ExpressCard to Sprint's already long list of Revision A supported hardware.  The EX720 is available late February for as low as $179.99 with a two-year subscriber agreement.
Customer willing to sign a two-year Sprint subscriber agreement may be eligible to receive unlimited data usage for $59.95 per month.  Other plans starts at $39.99 per month for 40MB to $79.99 per month for unlimited data usage with a one-year subscriber agreement.
Press Release [Sprint]