My Eyes Hurt : Yes, Trump Stared At The Solar Eclipse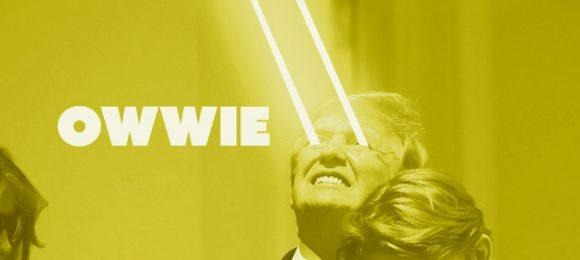 Donald Trump stared at the solar eclipse without protective eyewear yesterday afternoon, just like hundreds of other Americans. Despite the repeated warnings about damage to one's eyes – and even damage to the insides of top-end cameras – Trump decided it was OK to go ahead and look at the solar eclipse without the protective eyewear he had available to him. He was not the only one who did this.
Thanks to a reporter on the ground at the White House reporting for the White House Pool we have the event catalogued. At "approximately" 2:39 PM local time, "the President initially gesticulated to the crowd below and pointed at the sky." As this happened, "one of the White House aides standing beneath the Blue Room Balcony shouted 'don't look!'"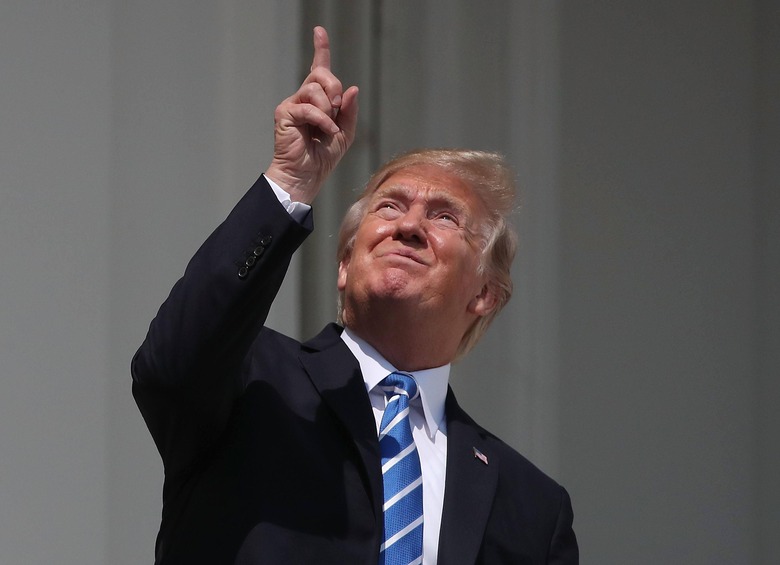 The image above was photographed by Mark Wilson for Getty Images. It includes the quote: "President Donald Trump looks up toward the Solar Eclipse on the Truman Balcony at the White House on August 21, 2017 in Washington, DC." The photos here show the gesture mentioned in the quote from the pool report above – it happened. And it happened more than once.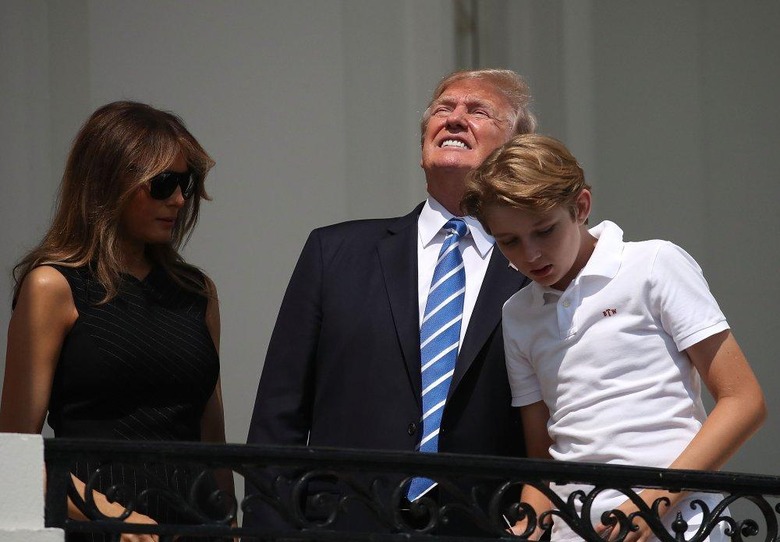 President Trump sneaks a peek at the #SolarEclipse2017 after taking off his protective glasses pic.twitter.com/sqhhV93LYF

— NBC News (@NBCNews) August 21, 2017
As it apparent here, Trump looked not just once, but multiple times at the sun without protective eyewear. Because why not, right? Because it's not like the sun, which can destroy a camera's insides, is dangerous to the insides of one's own eyeballs. But again, it wasn't just Trump who looked directly into the solar eclipse.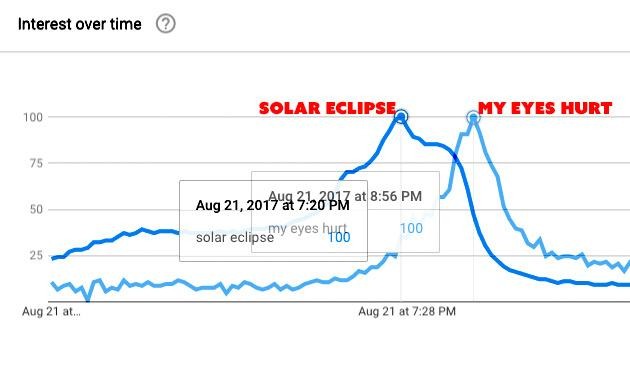 Looking at Google Trends, there's an easy comparison to be made between searches for "my eyes hurt" and "solar eclipse". As The Next Web mentions, the graphs don't show the number of times each term was searched, only the timing of the peak number of searches. Thankfully, searches for "my eyes hurt" weren't nearly as popular as the more all-encompassing "solar eclipse."