MvixUSA Ultio 1080p UPnP streaming media player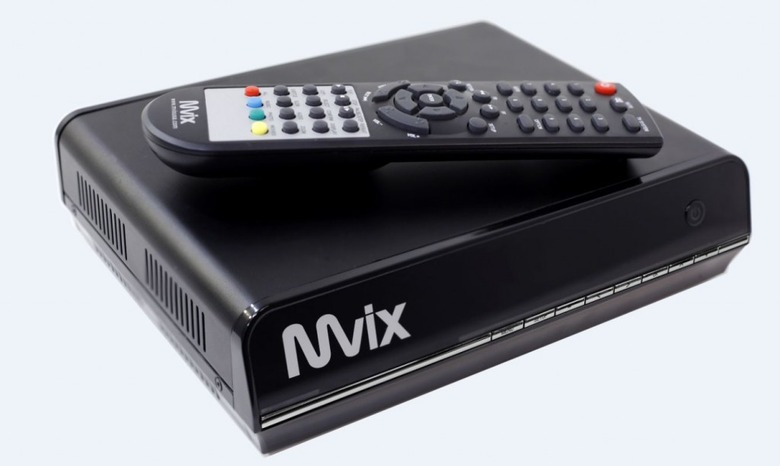 MvixUSA have rolled out their latest mediaplayer, the Ultio.  A network-connected UPnP streamer, the Ultio has an optional internal hard-drive, can display content from Netflix, Hulu, YouTube and others, and has a variety of connection options.  The company is also claiming that the Ultio supports the largest array of AV formats and codecs for any such device. 
Those formats include H.264, MKV, Dixv HD, MOV, VC-1 and FLV, together with FLAC and AVCHD. The full list is available here.  Up to a 1TB internal drive is supported, as well as external storage via the Ultio's USB 2.0 ports, and there's also a USB slave port to make transferring data from a computer straightforward.
A/V connections include HDMI v1.3, component and composite, together with optical and stereo audio outputs.  There's an onboard BitTorrent client for standalone downloads, plus an optional WiFi draft-n dongle.
The 1080p mediaplayer is available to order now, priced at $169 with no hard-drive or $259 with a 1TB drive preinstalled.  It will begin shipping in the first week of July.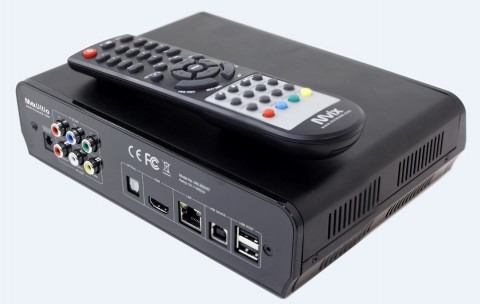 Press Release:
MvixUSA Launches Ultio: the Ultimate 1080p UPnP Home Theater Media Player

Chantilly, VA, June 25, 2009: Mvix(USA), Inc., a market leader in high-definition entertainment, business signage solutions and networked accessible storage devices, announces the worldwide launch of the Mvix® Ultio, a Hard-Disk Based media center capable of HD digital media playback with video output as high as 1080p and supporting the largest array of AV formats and codecs ever supported by any media player.

Ultio's high-end video processing not only plays Blu-Ray quality video, it allows to store entire Hi-Definition media on its internal hard drive, plug it into a TV via a HDMI and enjoy movies, digital music and family photos on large LCD or Plasma. The flexibility and scalability of Ultio makes it the easy to play HD movies or home videos. Ultio supports most 1080p HD video codecs, and formats such as H.264, MKV, Dixv HD, MOV, VC-1, FLV, etc. It is also capable of playing unique formats such as AVC-HD (normally used in camcorder footage) or FLAC (the popular, uncompressed audio, craved by audiophiles).

Mvix Ultio is being launched in 2 flavors: the regular version (without a HDD) is priced at $169, whereas the premium version (bundled with 1TB Hard Drive) will be available at $259. Speaking on the occasion, Mike Mallon, the business development manager of Mvix (USA), Inc., commented "Mvix Ultio is the ultimate solution for high definition home entertainment which is likely to redefine the HD Media player market. The aggressive market price bundled with a comprehensive set of features is likely to attract a much larger customers-base than ever before." Ultio is internet-ready and pre-equipped with a network port and an optional Wireless-N capability. It sports a samba server and a UPnP implementation, allowing seamless integration with services like PlayOn® or Tversity® (for streaming video content from Netflix®, Hulu®, CBS®, Youtube®, CNN®, ESPN® and much more).

Ultio is completely scalable – one can choose upto 1.5TB of media storage in its internal hard disk. Its built-in Torrent Client, combined with basic NAS features makes it an ideal setup for digital media acquisition, storage and sharing. Combined with spectacular picture quality of HD video and crystal clear sound clarity of digital audio, Mvix Ultio provides a complete HTPC experience. Ultio brings a 'networking reality' to Media players by enabling network media streaming from shared, password-protected PC folders, NAS or servers. Encompassing distinctive features of a traditional home-theater PC, it offers capabilities like formatting hard-drive, copy, delete, renaming of files and even physical transfer of files between USB storage, network shares, other PC or Mac and simply via the hand-held remote.

Mike further added, "This is our most comprehensive product to-date and we feel very confident about its market traction. In reality this new model is built by our valued customers – each feature on this device is an outcome of customer feedback on our older models. We are excited about this new product and I am sure our customers will be pleasantly surprised as well"

As part of the General Public License (GPL) agreement, MvixUSA will also make the firmware source-code available to its customers via its Support Center.

Pre-Orders of Mvix Ultio start immediately and it is scheduled to ship in July 1st week. Mvix Ultio will be available at popular retail locations such as Amazon.com, Buy.com, Thinkgeek.com, B&H Photo Video.com and directly from MvixUSA's store.

For more information, please visit www.mvixusa.com/ultio/1080p-high-definition-home-theater-pc.html