Mustek PF-i700 iPod Photo Frame serves two purposes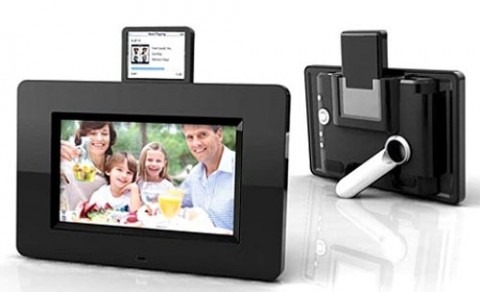 This digital photo frame can do two things at once, on one hand, it can act as a normal digital photo frame pulling its images from a user-supplied SD, xD, MMC, MemoryStick or MemoryStick Pro cards. But on the other, it has an iPod dock built into the back side and speakers as well that allow you to display your photos from your iPod as well as play music from it.
The whole thing is USB 2.0 compatible so it can plug into your computer as well, no word whether you can dock your iPod in this thing and connect it to your PC though. Although you probably can play music as well as show photos from the various flash card types.
It has a 7-inch display with a resolution of 480x234, which isn't bad for a 7-inch screen, but it could be better. Overall, its not a bad device, and for about $129, the same as most other digital picture frames this size, its not a bad deal.
Combo Gadgets – Mustek PF-i700 iPod Photo Frame [via gadgettastic]