Musical Fidelity Merlin 1 gives vinyl a Bluetooth chaser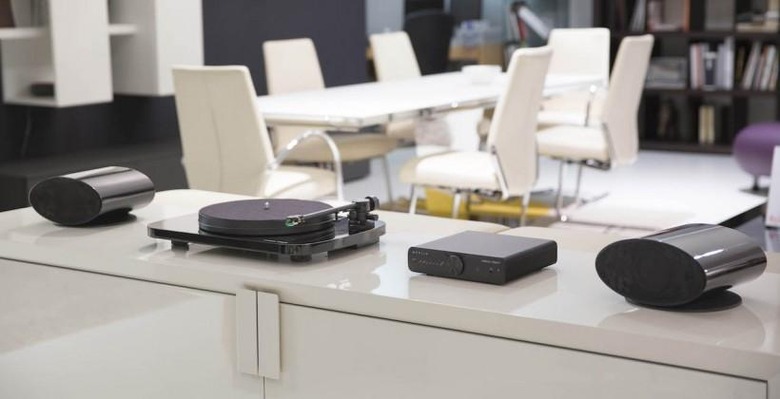 Vinyl enthusiasts may not have a reputation for embracing modern technology, but Musical Fidelity clearly believes at least some record lovers are willing to entertain more than one way to get their audio fix. The new Merlin 1 system is built around the British company's Round Table turntable, but the companion digital amp not only caters for vinyl but supports Bluetooth aptX streaming for pulling over digital music from a phone or tablet, among other sources.
In fact, while it may be compact, the amplifier and streamer packs a fair number of connections. As well as phono and Bluetooth, there's a line-input (digital or analog) and a USB port, the latter of which can be used to install system updates or connect the amp to a PC.
With that connection, Merlin 1 can act as an external audio interface: any input, Round Table or otherwise, can be used as a source and recorded digitally.

Inside, there are two 24-bit, 192 kHz DACs and twin high-grade amplifier modules, which have been separated out as individual monoblocs. 50W per channel is produced.
It also supports an optional subwoofer. The standard Merlin speakers have a distinctive multi-stepped baffle on the front, with a single driver in each that, so Musical Fidelity claims, should punch above their size.
According to the company, vinyl sales are at an 18 year high, though we can't really argue with the convenience of wireless streaming.
Merlin 1 hits UK shelves in December, priced at £1,300 ($2,038). US availability hasn't been confirmed as yet.
SOURCE Musical Fidelity