Musical Bra: touch them, they're tuneful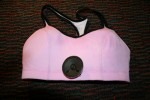 Musical Bra.  Not, perhaps, two words you'd expect to see together, but somehow hypnotic now that you do.  Take one bra, add to it the guts of a cheap electronic musical toy – such as the $1 toy keyboard used in the original Instructable – and then hit the streets asking strangers to palpate your tuneful chest.
Each breast gets eight different sounds, triggered by custom-made fabric buttons constructed from layers of conductive material separated by strips of foam.  These are sewn and ironed (using double-sided interfacing, which glues on when heat is applied) into the bra, before a final layer of plain material is fixed onto the inside to prevent any unpleasant breast-wire interfacings.
The speaker goes up front, and a battery holder in-between the shoulder-blades.  You could put together quite an orchestra using various donor toys, or perhaps even a talking version with a Speak & Spell.