Mushkin unveils world's first 480 GB mSATA SSD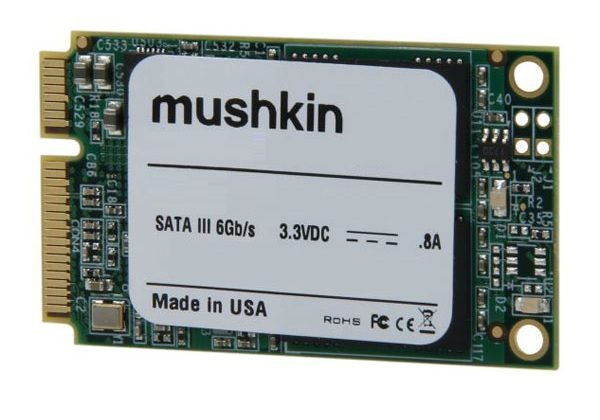 There are a few different types of SSDs on the market today for storing data in computer systems. Typically, when we think SSD what comes to mind are the 2.5-inch form factor drives that are used in larger notebooks and desktop computers. However, when it comes to putting SSDs and some of the incredibly thin ultrabooks and other small notebooks on the market those 2.5-inch form factor SSDs are simply too big.
In thin and small devices, mSATA SSDs such as the one in the picture above are typically used that do away with the housing and plug directly into the mainboard of the computer. Mushkin has announced a new extremely high-capacity mSATA SSD that is certain to find its way into high-end ultrabooks and other compact computing devices in the future.
The new storage device is the world's first 480 GB mSATA SSD cramming an incredible amount of storage space into the tiny MO-300 mSATA form factor measuring 50.80 x 29.85 x 4.85 mm. The storage device uses the mini PCIe interface and has user upgradable firmware.
The SSD uses a SandForce SF-2281 SSD processor and supports ATA APM, Security Set, and NCQ features. The little storage device also has integrated BCH ECC providing up to 55 bits correctable per 512 byte sector. The little SSD will be available in early January via resellers and distributors for $499.99. With this little SSD being available via distributors, you should be able to find one to upgrade your existing computer.