Multifunctional MvixPVR boasts an iPod dock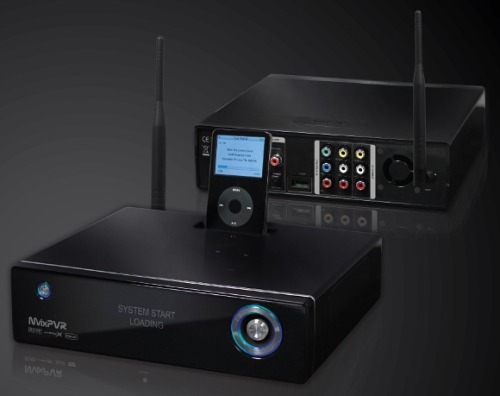 Mvix has announced their latest multifunctional PVR with an integrated iPod dock. Essentially, the Full HD 1080P capable MvixPVR combines PVR media server, Ipod dock and HDD storage into one device that provides multimedia playback, record, time shift with streaming ability though wired or WiFi network such as NAS, UPnP media server and BitTorrent downloader.
Most Mvix media player doesn't come equipped with an on-board storage but this MvixPVR is documented to has supported SATA drive for up to 1TB in size (Fat32 and NTFS). The included USB 2.0 port allows user to add external storage or flash-based storage cards. The device when connect to compatible system, will reveal itself as an external storage. Audio video connectivity including HDMI, component, SPDIF, Optical, composite and a pair of stereo output.
The multi-talent media player is also said to be able to record digitally from any source, from set-top box, satellite receiver or your camcorder. The MvixPVR is compatible with Windows, Mac and Linux PCs. Price and availability are unknown at the moment.