M&Soft Mappy API PND: 7-inch screen and digital TV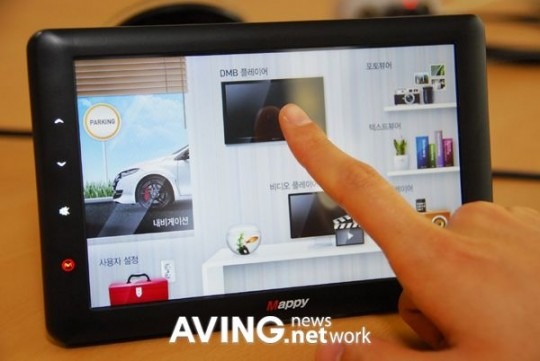 When you call your company M&Soft, we can't help but wonder whether you're looking to borrow a little big-player luster from Microsoft; however the Korean firm could feasibly stand on its own feet by making PND units with displays almost bigger than your car's windshield.  The M&Soft Mappy API may have a ridiculous name, but inside it's a different story: as well as the SiRF v6 chipset there's DMB digital TV and media playback.
The whole thing is fronted by a 7-inch 800 x 480 touchscreen, driven by a 900MHz dual-core processor.  A custom GUI leads to the digital TV, navigation, photo viewer, music and video players, together with parking sensors, and the Mappy API will play MPEG4, XviD, H.264 and OGG files, among others.
An SDHC card slot provides the memory, and the whole thing measures 185.5 x 117 x 21 mm and tips the scales at 400g.  Available in Korea this month, the Mappy API is priced at 349,000 KRW ($282); it seems disappointingly unlikely that it will reach the US or Europe.
[via AVING]