MSI Windpad 110w AMD Z-Series Dual-Core Tablet Officially up for Pre-Order at Amazon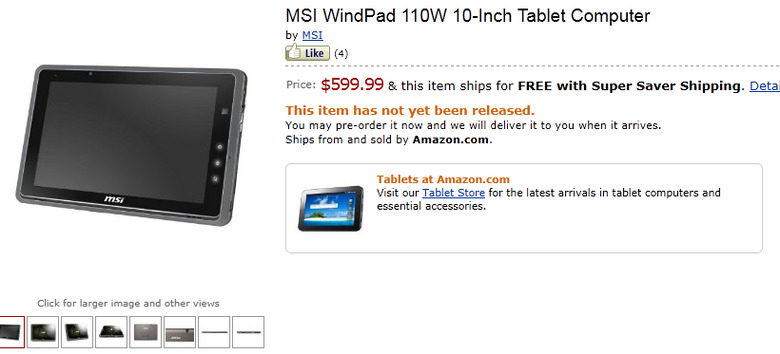 We may receive a commission on purchases made from links.
MSI has finally came out and officially unveiled the pricing and pre-order information for their dual-core Windows 7 tablet known as the Windpad 110w. In case you forgot the specs include a 10" display with a 1280x800 resolution, 4GB of fast DDR3 RAM. Onboard you have a 32GB SSD hard drive, as well as HDMI, two full-size USB ports and all this is powered by Windows 7 and AMD's new dual-core Z-Series processor.
From the impressive specs listed above you probably noticed this is a little more than your average tablet device. With a powerful dual-core chip and 4GB of memory this thing should be blazing fast and put most small netbooks to shame. Currently it is be offered at Amazon and Newegg both for pre-order starting at $599. Feel free to click those links and see more pictures or details and possibly even pre-order one for yourself.
Do take note that shipments wont start until August 1st according to the press release (below) so you'll be waiting a few weeks. This tablet has a lot of potential and could really be just what you've been waiting for if the Honeycomb platform or the iPad isn't for you. Full press release below.
Press Release:
MSI Launches New WindPad 110W Tablet Computer

WindPad110W unites stylish design with Microsoft's Windows 7 operating system and AMD Z-Series APU platform to deliver a secure, on-the-go PC experience for professionals and educators

CITY OF INDUSTRY, Calif. – July 7, 2011 – MSI Computer Corp., a leading manufacturer of computer hardware products and solutions, today announced the first North American shipment of the WindPad 110W. MSI worked closely with Microsoft and AMD (NYSE: AMD) to create a tablet that combines powerful processing and Microsoft Windows® 7 operating system designed for professionals, including business travelers, healthcare and education professionals.

"Bringing Windows 7 and AMD's newest generation processor together is a significant step forward for MSI's tablet line," noted Andy Tung, vice president of North American sales for MSI. "Our business customers want portability and multimedia entertainment on the go, and the new hardware and latest software gives us the ability to deliver that experience in a tablet form factor."

The MSI WindPad 110W combines security features with easy navigation tools to make using the tablet while away from a desk easy and secure.

"Microsoft is pleased to work with MSI to help bring their portable Windows-based tablet to market," said Nick Parker, Vice President of Worldwide Marketing in the OEM Division at Microsoft Corp. "Windows 7 is a great choice for commercial customers looking for a device that enables the productivity, mobility and security their businesses need to succeed."

The tablet also packs the new AMD Z-01 Accelerated Processing Unit (APU), offering powerful processing and display performance with 4GB of DDR3 RAM, 32 GB solid state drive, 1280x800 screen resolution, a USB port and mini-HDMI port included.

"The MSI WindPad 110W tablet featuring the AMD Z-Series APU with unmatched AMD Radeon™ graphics is an exciting new product and a perfect fit for end users that want DirectX® 11 capability and vivid HD media experiences," said John Byrne, corporate vice president and general manager for Americas Mega Region, AMD. "In addition to its integration with operating systems like Microsoft Windows 7, the AMD 2011 HD Tablet Platform enables enterprise-level security and offers support for HTML 5 and external monitors, enabling crisp graphics for enhanced productivity, streaming video, gaming and other multimedia."

The MSI WindPad 110W highlights and features include:

· Trusted Platform Module (TPM): With the TPM, files and data are automatically encrypted for maximum security using the BitLocker functionality in Windows 7 Enterprise or Ultimate to provide encryption for the tablet and any removable HDD.

· Easy Face Software: MSI's Easy Face software allows you to log in without typing a password. Instead, show your face to the tablet's webcam, and you will automatically be logged in to the system. The software employs your unique facial features to remember your passwords, so you don't have to.

· Multi-control Navigation: The Smart Tracker provides smooth operation, so that you can grip both sides of the tablet and use small finger movements for navigation, an additional navigation control to using the touch screen. The SAS Hotkey performs the traditional role of the "Ctrl+Alt+Del" combination whenever needed.

· Smart O-Easy Application: The user-friendly application delivers full-control panel at your fingertips and allows you to manage and find the functions or programs that are most often used, including volume, webcam, wireless, mute, standby mode and screen brightness.

The new WindPad110W has an MSRP of $599.99. It is available for presale at Newegg.com and Amazon.com. For detailed specification and purchasing options, please visit http://www.msimobile.com.