MSI Wind U100 to sell at Best Buy stores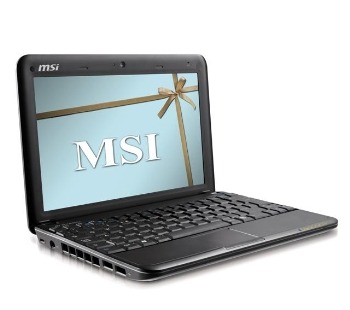 MSI have announced their US retail partner, as hinted at by Director of US Sales Andy Tung.  The 10-inch MSI Wind U100 netbook will go on sale in Best Buy stores, where it will sit alongside the ASUS Eee PC which the retailer has sold for some time now.  At time of writing the Wind is yet to appear on Best Buy's website.
In a recent interview, Tung outlined MSI's hopes that hands-on experience with the Wind would encourage more users to give the netbook format a chance.  He revealed that sales of the budget ultraportables have reached around 150,000 to 250,000 per month; that contrasts with ASUS' apparent Eee PC sales of 700,000 netbooks in September alone.  Until now it has been difficult to find a netbook, in a bricks and mortar store, that wasn't from ASUS' ever-growing stable.
It's presumed that the Wind U100 will carry the same price in Best Buy as it has online.  It currently retails for around $479.99.  Tung also confirmed that the company will update the MSI Wind U100 this month, introducing a 160GB hard-drive (and keeping the 6-cell battery) for that same price.  A business-focused version, the MSI Wind U120, will arrive in late November or December, with a 120GB hard-drive, ThinkPad-inspired styling, 3.5G WWAN and 1GB of RAM.  It's not yet clear whether the U120 will make it into Best Buy.
Press Release:
MSI WIND BLOWS INTO BEST BUY

CITY OF INDUSTRY, CA – October 06, 2008 – MSI Computer, a leading manufacturer of computer hardware products and solutions, is excited to announce the MSI Wind U100 Netbook is now on sale at Bestbuy locations across the country. The Wind, an acronym for "Wi-Fi Network Device," was the first 10" netbook to feature the speedy new Intel Atom™ 1.6GHz processor

"We are excited to be able to reach our clients through this new channel," said MSI's Director of U.S. Sales Andy Tung. "By partnering with Best Buy we can introduce more people to the Wind, and meet the needs of the buyers who either don't want to purchase online or would like to touch and try out our netbook before making a decision."

Weighing in at just 2.3 lbs, MSI designed the Wind to be lightweight and ultra mobile, without sacrificing convenience or performance. The Wind features an ergonomically designed keyboard that is only 20% smaller than a full sized notebook keyboard, with the keys spaced a comfortable 0.68 inches apart.