MSI Wind Nettop CS120: superfrugal plus DVD burner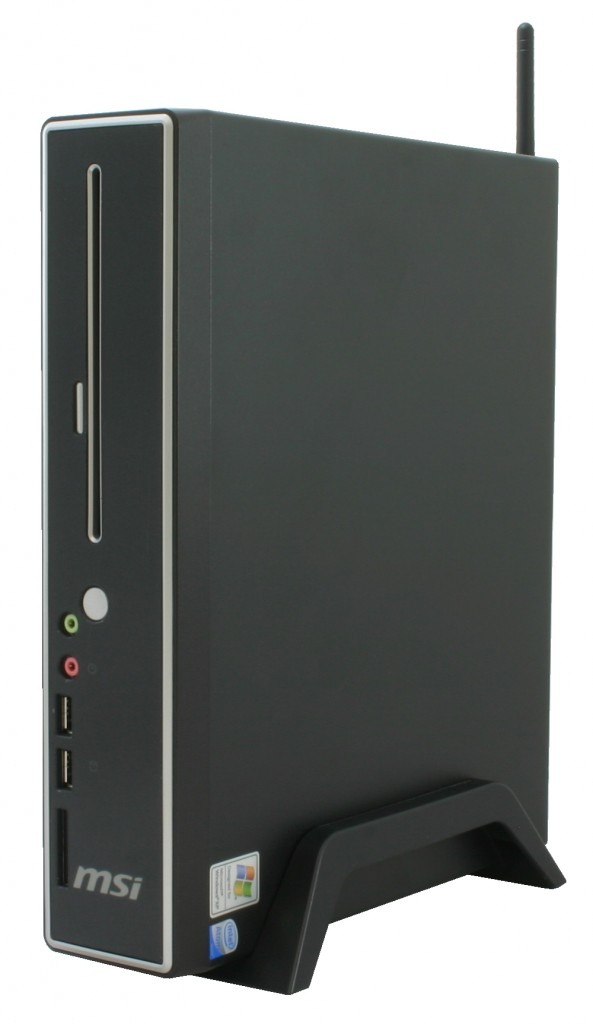 MSI have announced a new, eco-friendly version of their Wind Nettop, the MSI Wind Nettop CS120.  The CS120 measures just 11.1 x 9.45 x 2.56 inches but manages to include a slot-load DVD burner, Intel Atom 230 1.6GHz processor, 160GB hard-drive and 1GB of memory (maximum 2GB). 
There's also 7.1-channel HD sound output, integrated WiFi and a multiformat card reader, plus six USB 2.0 ports, ethernet, audio in/out and a VGA out.  Most impressively, though, is the 35W power consumption at full load, around a 90-percent saving compared to the typical 300W desktop PC.
The MSI Wind Nettop CS120 will be available with an MRSP of $319.99.  You'll be able to find it at NewEgg, Amazon, Mwave and J&R.
Press Release:
MSI Unveils the Eco-friendly Wind Desktop PC

Wind Nettop CS120 Combines Energy Saving, Ultra-Silence, and

Multimedia Entertainment

City of Industry, CA – March 12, 2009 – MSI, a leading manufacturer of computer hardware products and solutions, is pleased to announce the release of the new desktop PC, Wind Nettop CS120, with WiFi, slot-in DVD rewriter and Energy Star® certificate. The Wind Nettop CS120 is equipped with the latest Intel® 1.6GHz Atom™ 230 processor, a 160GB SATA hard disk drive and 1GB of DDR2 SODIMM memory which is upgradable to 2 GB.

Energy-Saving and Ultra-Quiet

Wind Nettop's CS120 is a space- and energy- saving portal for home and business users. Compared to the 300W power consumption of general desktop computers, the Wind Nettop series can run full operating speed at 35W, saving about 90% on electricity . Users no longer need to worry about overdraft electricity even when using the computer over a 24-hour period. MSI has broken the myth that desktop PC is equivalent to high power consumption with the Nettop CS120's ENERGY STAR® qualifications.

WiFi and Slot-in DVD Rewriter

The compact size of MSI Wind Nettop CS120 features a stylish slot-in Super-Multi DVD burner, which is used for backing up data, installing software or playing movies. The MSI Wind Nettop CS120 is designed to be placed anywhere, including the living room. You can stay connected with the world by its integrated WLAN. Simply access to the Internet, email, and MSN everywhere you want!

7.1 Stereo H.D. Sound Provides the Excellent Sound Experience

Wind Nettop CS120 supports 7.1-channel High Definition output, allowing even the small space to have a big theater-like experience by showing clear treble and powerful bass. While enjoying music or film, Wind Nettop CS120 offers the amazing performance.