MSI Vortex VR-ready mini desktop now available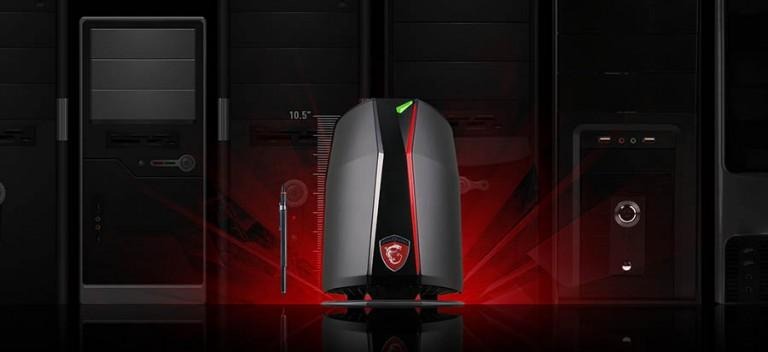 MSI's mini desktop, the VR-ready Vortex, is now shipping. The miniature tower is about the size of a subwoofer, says MSI, but it packs all the hardware gamers need to get their favorite titles up and running. A mixture of powerful hardware, high-end features, and a specialized cooling system make for a PC that is "minimal in footprint by maximum in performance," says MSI. Features include support for up to six video outputs and a 360-degree cooling vortex.
The MSI Vortex, which is being shown off at GDC today, boasts an Intel Core i7 6700K processor, up to 64GB of DDR4 memory, dual NVIDIA GeForce GTX 980 GPUs in SLI, and SSDs in Super RAID 4. Connectivity includes a Thunderbolt 3 port with support for up to 40GBs transfers. The machine itself is small given all it offers, with a total weight coming in at a touch under 9lbs and dimensions measuring 7.61 x 7.01 x 10.55-inches.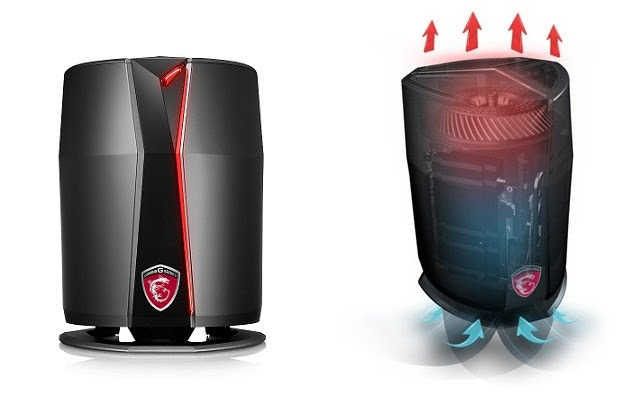 One of the more notable features is MSI's own 360-degree Silent Storm Cooling technology; the design uses a vortex-like wind path that draws heat up from the bottom and twirls it up and out the top. Contrasting that cooling system is a 450W 80 plus Gold power supply. The overall desktop is designed in such a way to minimize the amount of space it needs.
Other notable features include the inclusion of Nahimic Military X Gaming, an audio technology that is used by the French Army for use with aircraft training simulators. Joining it is Killer DoubleShot X3 connectivity, multi-screen 4K Ready support, and the inclusion of Dragon Center Dashboard and App for customization. Things like color accents and more can be customized, the system can be tuned, and performance can be monitored.
The desktop is available now $2,199.99 USD.