MSI unveils X410 notebook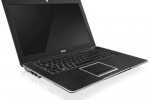 MSI has been launching lots of new notebooks over the last few days and today the company has announced a new notebook called the X410. The X410 is a new addition to the X-Slim 14-inch notebook family. The thin little notebook promises good performance with the latest AMD ultrathin platform.
The AMD second-generation ultrathin platform makes for a svelte machine that still supports 1080i high-resolution video. The machine also has AMD PowerNow! technology to reduce the power needs of the machine to make the battery last longer. MSI claims that the X410 has twice the battery life that traditional 14-inch notebooks offer.
Weight for the small system with the battery installed is 1.5kg and the machine is only an inch thick. The notebook needs only 15W of power to operate making it 40% more power efficient that previous notebooks. The screen is LED backlit and graphics are handled by an ATI Radeon x1250 graphics card. The processor inside is an AMD Athlon Neo and the rig has 2GB of RAM. Pricing and availability are unannounced.