MSI Sketch Book laptop has rotating keyboard/digitizer for artists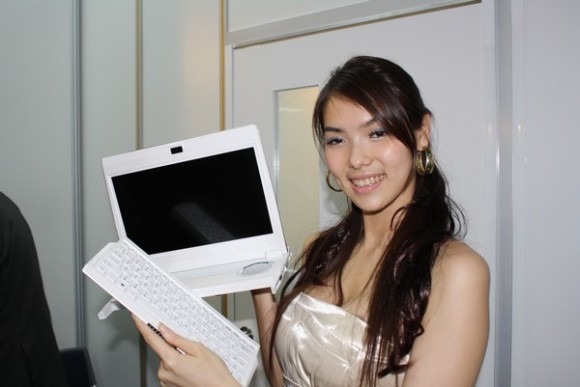 MSI's new tablets weren't the only interesting tech on show from the company at Computex this week; they also brought along a few notebooks, including a concept model called the MSI Sketch Book that's aimed at digital artists.  It has a detachable keyboard section which, when flipped over, reveals a large touchpad digitizer which can be used for drawing or writing.
The unit itself is apparently non-functional – or at least MSI aren't letting people turn it on – but it seems the company do plan to push it into production.  They're promising proprietary handwriting recognition technology, but beyond that details are completely unknown.
As for the other notebooks, the new MSI GT660 gets overclocking of both its Core i7 CPU and its NVIDIA GeForce GTX 285M GPU, along with USB 3.0 connectivity, dual-HDD in RAID 0 configuration, and a 3D-capable display for use with polarized (i.e. battery-free) glasses.  MSI will also load software to make converting regular 2D video and images into 3D.
Finally, the MSI F-Series has a choice of screen sizes and Core i5 or i7 processors, together with NVIDIA Optimus graphics (that automatically switch between integrated Intel HD graphics and a dedicated NVIDIA GPU).  These have more of a multimedia focus, with THX Speakers and a special movie mode that automatically changes the display settings to suit.
[via LaptopMag]