MSI Ships AMD Powered Notebook and All-in-One PC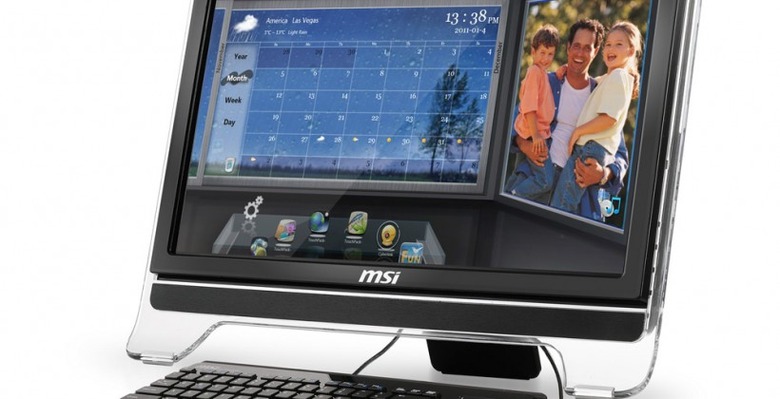 MSI has announced that starting today it will ship its first PCs powered by the AMD Dual Core Processor E-350 in North America. The 15.6-inch CR650 notebook and the Wind Top AE2050 All-in-One PC will be the first wave of North American products from MSI using the new AMD accelerated processor.
The CR650 notebook is a multimedia powerhouse with a 16:9 widescreen display and has AMD Radeon HD 6310 Discrete-Class graphics chip. It comes with Windows 7 Home Premium, supports DirectX 11, and MSI's Cinema Pro technology to maximize graphics performance. Watch 720p HD videos or record your own with the built-in 720p HD webcam. The webcam can be used with Easy Face Logon for quick and easy logins. It also comes with an HDMI out to let you connect your laptop to TVs.
The All-in-One Wind Top AE2050 sports the same video card as the CR650 and comes with a 20-inch 16:9 screen. The Wind Top is highly power efficient using only 65 watts per hour compared to traditional PCs the it is able to save nearly 74% in energy. It also comes with Windows 7 Home Premium, a 500GB 3.5" SATA II hard drive, and 2 GB DDR3 Ram. The Wind Top is equipped with two USB 3.0 ports with a transfer rate of up to 5Gbps, and ten times faster than USB 2.0. The newest version of MSI Wind Touch allows for a multi-touch interface that gives users a more convenient way to use the computer.
Press release:
MSI Ships its First Notebook and All-in-One PC Powered by the AMD Accelerated Processor in North America

AMD's CPU and graphics on a single chip enable MSI CR650 media notebook to deliver extra long battery life while Wind Top AE2050 All-in-One sips power compared to traditional desktops

CITY OF INDUSTRY, Calif. – March 15, 2011 – MSI Computer Corp., a leading manufacturer of computer hardware products and solutions, today announced that it is now shipping its first wave of PCs powered by AMD's Accelerated Processing Unit: the 15.6-inch CR650 notebook computer and the 20-inch 16:9 widescreen Wind Top AE2050 All-in-One PC.

Multimedia Entertainment in a Portable 15.6 Inch Design

The MSI CR650 notebook delivers a superior multimedia experience in a small form factor with the newest generation AMD Dual Core Processor E-350 with AMD Radeon™ HD 6310 Discrete-Class graphics chip which supports Microsoft® DirectX® 11 for enhanced performance. The CR650 extends the life of each battery charge with MSI's Turbo Battery+ power-saving technology and offers shortcuts for shutting off the screen to extend standby time, giving you up to 6 hours of power on the go. The CR650 also comes with high quality, theater-class wrap around stereo courtesy of SRS PC Sound™.

Additional highlights of the CR650 include:

· HDMI out: To watch HD films on a screen larger than a computer, the CR650's HDMI slot lets you connect to LCD TVs of any size.

· Genuine 720p high-definition (HD) video: Enjoy a truly clear and smooth video and picture quality without jerkiness. In addition, the Built in 720P HD Webcam can be used with all kinds of social networking media, allowing optimum high-quality video communication.

· Cinema Pro: The MSI CR650 laptop comes equipped with MSI's own Cinema Pro technology to maximize its graphics performance. Depress the Cinema Pro hot key to switch to video mode for higher resolution and richer colors for a viewing experience so enjoyable that you'll find it hard to tear yourself away.

"AMD's newest generation platform is helping revolutionize MSI's product portfolio," noted Andy Tung, vice president of sales for MSI US. "Our customers want entertainment on the go, as well as products that are sensitive to power consumption, and the new VISION Technology from AMD gives us the ability to deliver cutting edge products at an appealing price point."

All-in-One PC that's Easy on the Wallet and the Planet

The AE2050 All-in-One PC is also equipped with the AMD Dual Core Processor E-350 with AMD Radeon HD 6310 Discrete-Class Graphics, to provide high quality HD images and audio effects, whether watching online streaming video, playing online games or sharing photos.

Additional highlights of the Wind Top AE2050 include:

· High power efficiency: MSI's application of the latest AMD Fusion platform delivers incredibly low level power consumption – only 65 watts per hour – without compromising performance. Compared with traditional desktop PCs, the Wind Top AE2050 is able to save nearly 74% in energy, thus significantly reducing power consumption and CO2 emissions. The Wind Top AE2050 is certified with the most stringent environmental standards, including Energy Star 5.0 and the European Union EuP specifications for energy consumption.

· Faster gadget charging and file transfers via USB 3.0: MSI's Super Charger technology allows you to charge a device even when the computer is turned off, and it reduces charging time by 40 percent. Two high speed USB 3.0 ports provide a transfer rate that is up to 5Gbps and ten times faster than USB 2.0, which means a 4.8G HD movie can be transferred in approximately 14 seconds.

· Advanced HD imaging: Whether watching video, playing games, or sharing photos, the sharp HD images and audio effects on the Wind Top AE2050's 16:9 cinematic wide-screen display deliver a brilliant experience. Furthermore, with the AMD Accelerated Processing Unit supporting Microsoft DirectX 11, now you can enjoy your games with more life-like details and enhanced graphics performance.

· Exclusive multi-touch software: The fourth generation of MSI Wind Touch offers a friendly and intuitive user interface that makes it easy to check the weather, world clocks, browse photo albums, and record video messages without the use of a mouse or keyboard.

The new CR650 has an MSRP of $499.99 and the AE2050 starts at MSRP $679.99. Both are available at Newegg.com and Amazon.com. For more information and purchasing options, please visit http://us.msi.com.

About MSI

Founded in 1986, MSI manufactures and markets a wide array of consumer electronic products, from Notebook PC, All-in-One PC, to a variety of components including IPC, Server, Motherboard and Graphics Card. The company runs operations worldwide and employs approximately 14,000 people. MSI's North American operating subsidiary is based in City of Industry, Calif.

MSI's corporate commitment to innovation and style – as it relates to both technology and design, and as it's applied to both components and the final computing device – supports its mission to meet the needs of consumers worldwide.

MSI's products are sold in more than 120 countries, and there are more than 150 million motherboard products and 100 million graphics cards in the market worldwide. To learn more about MSI's complete product lines, please visit: us.msi.com; for Notebook PCs visit http://www.msimobile.com. You may also connect with MSI on Facebook (http://www.facebook.com/MSI.ComputerUS) and Twitter (http://www.twitter.com/msiUSA).