MSI R4890 Cyclone SOC video card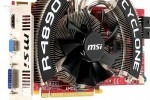 MSI have announced a new video card, the R4890 Cyclone SOC, which brings together ATI's 1GHz HD 4890 core with 800 stream processors and 1GB of GDDR5 256-bit memory.  Since cooling all that takes some effort, there's also a huge 10cm fan with four 8mm heatpipes.  That makes for the biggest fan on an HD 4890-based video card to date, and a setup which MSI claim is far quieter than rival systems.
The company is also saying that the R4890 Cyclone will last longer, as it uses "military class" components; namely the SSC (Solid State Chock), which reduces high-frequency noise and apparently makes overclocking more stable, the solid CAP, and the Hi-c CAP.  The latter both reduces power consumption thanks to greater efficiency and, MSI claim, lasts over 200 years at regular 65-degree operating temperatures.  Whether you'll still be using your MSI R4890 Cyclone in 200 years is obviously beside the point.
Elsewhere there's a dual-link DVI output, HDMI and included DVI-to-VGA adapter, and the card supports HDCP and maximum display sizes of 2560 x 1600.  No word on pricing, but the MSI R4890 Cyclone SOC should be available now.