MSI N580GTX-M2D15D5 Graphics Card Hits The Market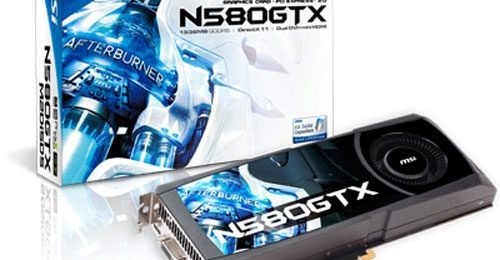 We have already talked on a few occasions about the NVIDIA GTX 580 that landed yesterday and the new gaming desktops that have been coming out all over the place. MSI has its own branded version of the GTX 580 with the long and very drawn out part number N580GTX-M2D15D5.
The card has the same 512 CUDA cores and has a GPU with 40nm construction and support for DirectX 11. The card supports 3D Vision surround technology and 1536MB of GDDR5 RAM. The card promises 20% more performance that the GTX 480 it relocates in the high-end of the range.
The MSI card has the exclusive Afterburner Utility that allows the user to overclock the card easily for more performance. It uses solid capacitors with aluminum core for more stability and better overclocking. The official pricing and availability on the card are unknown, but NVIDIA says it was a hard launch so cards should be available.