MSI GX630-028US Gaming Notebook announced for under $800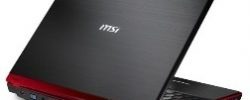 MSI announced today their latest gaming notebook, the MSI GX630-028US. And while the specs are pretty impressive with an AMD Athlon X2 Dual-Core Processor, the truly impressive attribute of this newest Gaming Notebook Series system is that it costs only $799.99.
This notebook features a NVIDIA GeForce 9600 graphics card, a 250 SATA hard drive, 4GB of DDR2 RAM, Bluetooth, Wi-Fi, a 2-megapixel webcam and a 15.4-inch WXGA glare LCD. It also sports the MSI Turbo Drive-engine technology. This tech lets you overclock the notebook by 15%. Plus, the MSI ECO Engine lets you save energy and save battery life by switching between 5 different operating modes.
MSI seems to really have the pulse of the current economy on their minds with this one. It offers up great functionality, a streamlined look and a price tag that is much more affordable than the competition.