MSI CR420 Notebook Introduced, Features Intel's Wireless Display Technology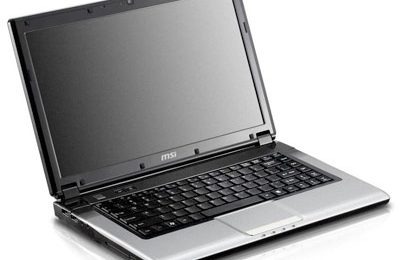 MSI has chosen to take the time and revise a member of their Classic notebook line-up. The CR420 has been introduced with a whole suite of new features, and with its 14-inch display, we can see this one definitely piquing the interest of someone in the notebook market, searching out their next purchase. But, most noteworthy of all, is the inclusion of Intel's Wireless Display, or WiDi.
Just in case you may have forgotten, Intel's WiDi is a way for you to stream content (including HD content) from your computer to your HDTV, all without wires. As long as your computer features Intel's Core i3, i5, or i7 processors, and you pick up a stand-alone adapter box that connects to your HDTV via an HDMI cable, you'll be good to go. As long as your computer can handle it, and has the necessary software to take advantage of the wireless streaming platform. Luckily, the new CR420 is one of the few notebooks on the market that can do as much.
Other features include a chiclet keyboard, a weight of only 2.2kg, beveled edges and a flush trackpad. You are fully capable of creating your own machine, and the base models start with the Intel Core i5 processor, and feature upwards of 4GB of DDR3 memory. You'll find an HDMI and VGA output, integrated 802.11 b/g/n WiFI, two USB 2.0 ports, an eSATA/USB port, and a 4-in-1 card reader. There's a 1.3MP webcam, Bluetooth 2.1 support, and you can chose your hard drive size: 250, 320, or 500GB sizes. You'll also find Intel's HD integrated graphics, too.
The battery is of the 6-cell Li-ion variety, which should give you enough juice to not make you want to pull your hair out while you're unplugged. Unfortunately, the press release doesn't tell us anything about a price or official release date, but hopefully those key details get revealed soon.
Press Release
MSI Classic Series CR420

Optional Intel Wireless Display for Wireless Family Multimedia Entertainment

MSI's new generation Classic series CR420 is equipped with the new 2010 Intel® Core™ processor and an optional Intel Wireless Display, taking laptops to a whole new level of computing characterized by high performance and wireless family multimedia entertainment.

Taipei—The MSI Classic series' most recent addition, the 14-inch CR420 boasts the latest Intel® Core™ Series processors and is encased in MSI's own cross-hatch color film print coating. Light and stylish, it's your best partner for next-generation audiovisual enjoyment.

MSI Notebook Marketing Director Sam Chern points out that the CR420 is the newest member of the MSI Classic series of notebook computers and packs the all-new 2010 Intel® Core™ CPU. The cover and palm rest areas are protected with lustrous, scratch-resistant cross-hatch color film print. The CR420 also comes with a chiclet keyboard, a seamless touchpad, and beveled edge construction. Ultra-thin, the 14" CR420 tips the scales at less than 2.2kg to give you mobility without sacrificing power or performance.

Ultimate style and entertainment

Cross-hatch color film print: The lid and palm rest areas are sheathed in MSI's exclusive glossy, scratch-resistant cross-hatch color film print. The case is graced with 45-degree beveled construction, making the CR420 a leaner, meaner machine, weighing in at less than 2.2kg as well as the perfect portable entertainment center.

Chiclet keyboard: The CR420 features the latest chiclet keyboard to optimize your typing experience. Whether you're doing word processing or instant messaging, it significantly reduces the possibility that you'll hit other keys accidently. The smooth cross-hatch pattern on the lid and palm rest areas blends perfectly with the chiclet keyboard, so that this NB stands out from the crowd without being pretentious.

Classic Seamless Touchpad: The stylishly unassuming CR420 comes equipped with MSI's own seamless touchpad with textured cross-hatch color film print for maximum comfort and enjoyment.

Superior processing and mulitimedia performance

All new 2010 Intel® Core™ processor: The CR420 features Intel Core i5 processor and HM55 chipset. It boasts lower power consumption than previous generations and 15% longer battery life. It also packs Hyper-Threading technology which gives dual core CPUs virtual quad core computing power. Integrated graphics core performance has also been significantly improved, offering users enhanced processing and display performance.

16:9 theater-class backlit LED screen: The CR420 also has a 14" backlit LED display with 16:9 cinematic aspect ratio and high resolution, extending screen viewability by 14%, eliminating those annoying black bars above and below the picture, further enhancing film viewing.

Intel Wireless Display: The CR420 can be ordered with latest Intel Wireless Display option which currently supports up to 720p HD output. Wireless Display, a.k.a. WiDi, allows your HDTV to show high definition images or videos from your laptop computer via an external wireless transfer box. Now, it's a cinch to enjoy high definition videos on your television set.

Innovative energy efficient technology

ECO Engine power saving technology: The CR420 comes with MSI's exclusive ECO Engine power saving technology which allows you to select from among five power management levels—Video Game, Film, Presentation, Word Processing, and Turbo Battery, to automatically adjust display brightness, on/off switch, sleep mode, and processor performance settings, maximizing battery flexibility and use per charge.