MSI AG2712 Gaming All-in-One PC hands-on
MSI is in a froth of gaming frenzy at CeBIT 2013, with a new 27-inch gaming-centric all-in-one PC taking pride of place in the updated range. The MSI AG2712 squeezes Windows 8, Intel third-gen Core i5/i7 processors, and a touchscreen into its slimline chassis, but also finds room for a discrete graphics chip. We caught up with the new model to find out whether that made it special.
If you've seen a recent MSI all-in-one, the AG2712 shouldn't come as much of a surprise. It's a symphony of plastics, stacking various colors, shades, and finishes – clear, black, grey; matte and gloss – into a blunt-edged monolith with an adjustable stand (angle, not height).
It's not going to win any design awards, nor any for quality feel; still, it does what it promises to. Down the left edge there are power/control buttons, indicator lights, a pair of USB 3.0 ports, and a memory card reader. On a recessed panel on the back, you get two more USB 3.0, along with a pair of USB 2.0, audio in/out, an ethernet port, and VGA output. You also get a pair of HDMI ports, one outputting for a second display, and the second accepting an input so that you could use the AG2712 as a standalone display for a PS3 or Xbox 360, for instance.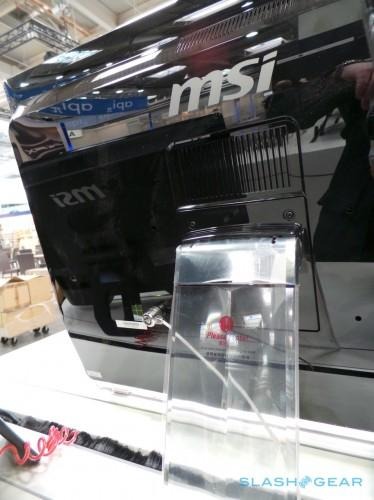 Finally, on the right edge there's a tray-loading optical drive. MSI throws WiFi in the box too, though if you want the 10-point multitouch display you'll have to pay extra; as standard, it's a regular Full HD screen. Either way, you get a welcome anti-glare finish which we found did a decent job of avoiding the show-floor lighting.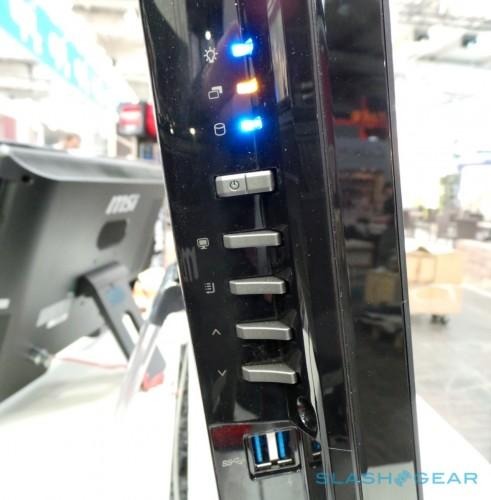 It's the pure specifications that MSI is most proud of, though, and so you get a choice of Core i5 or Core i7 processors, paired with NVIDIA GeForce GTX 670X graphics. Audio is courtesy of THX TruStudio Pro processing, though we'd be tempted to plug in some external speakers since, while the AG2712 goes loud, it lacks thump at the low end.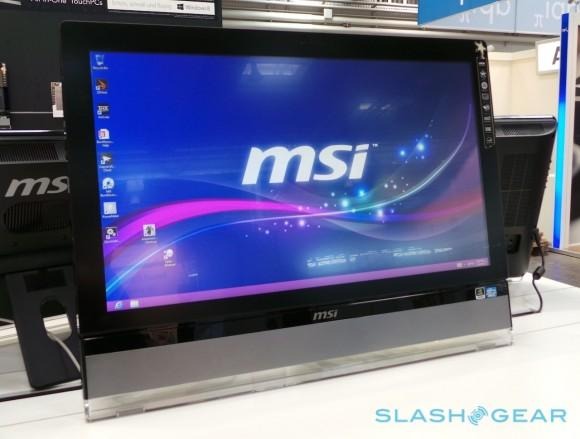 MSI isn't saying how much the AG2712 will cost, at this stage, and given the all-in-one is competitive with a laptop on specs, but not a regular desktop, we'd hope the company bears that in mind when it slaps on the stickers.