MPEG-4 Recorder for smart phones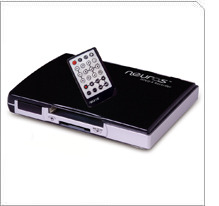 Neuros Technology makes an MPEG-4 Recorder that records video from the TV, DVD Player, cable box, Tivo/DVR or camcorder and allows for playback on many cell phones, PDAs and smart phones including the Motorola Q, Treo 650, Razr and Nokia N70 and N90.
With no fees, no conversion and no hassle, the Recorder 2 utilizes the screens of these devices to playback your recorded video. It records onto an S/D memory card that can be slipped into the smart phone or cell phone for instant viewing of your favorite shows.
The Recorder 2 makes TV watching more accommodating for its viewers. Other portable recorders with built-in hard drives and color screens cost $400 or more, but the Recorder 2 retails for $159.99.
SlashGear's review coming soon. Click over for demo video of the MPEG-4 Recorder and Press Release.
Chicago, August 16, 2006 – Neuros Technology, a leader in portable media devices, has enhanced their MPEG-4 Recorder 2 by adding a multicard slot to the unit's hardware. The new "Neuros Recorder 2 Plus" can record live TV, movies, and other video content directly onto SD, miniSD, microSD and MMC memory cards, allowing instant video playback on smart phones, cell phones and PDAs without the use of a card adaptor. Like the Recorder 2, the Recorder 2 Plus can also record directly onto duo memory sticks, compact flash (CF) cards and microdrives.
The Recorder 2 and the Recorder 2 Plus record video content from sources such as the TV, DVD player, cable box, DVR, gaming console and camcorder. "We continually improve our products in response to the wants and needs of our customers", said Neuros Technology CEO, Joe Born. "With virtually all new smart phones and PDA's being video capable, and with many of these devices accepting cards other than duo memory stick and CF, the need to support other memory cards was something we heard loud and clear."
Neuros MPEG-4 Recorder 2 remains the best way to get recorded video content on many different handheld devices. Both recorders allow video playback on devices like the Sony PlayStation Portable (PSP), 5th generation iPod, Motorola Q, Treo 700w and the RAZR V3 to name a few.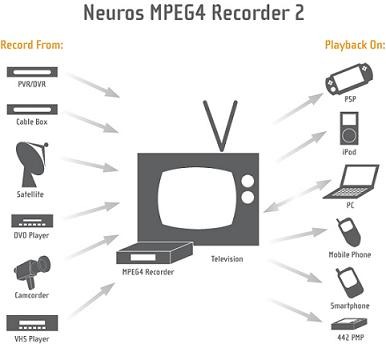 About Neuros Technology
Neuros Technology is a manufacturer and marketer of innovative, easy-to-use portable media devices. The company supports an open environment that allows consumers to play their content when, where, and how they want. Neuros encourages its community of users to participate fully in the design process, from concept to post-production enhancements.