Mozilla launches Firefox OS Simulator 1.0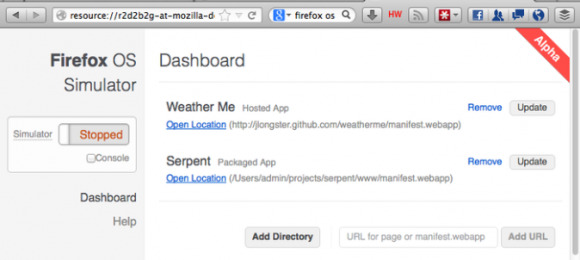 On November 15, Mozilla announced the prototype version of Firefox OS Simulator, a browser add-on for Firefox. Now the company has announced the arrival of Firefox OS Simulator version 1.0. Users can nab the browser add-on now from Mozilla.org; it only works on Firefox browser versions 16 through 17.x at the moment.
Version 1.0 comes without some of the bugs users complained about in the prototype release, with the announcement stating that Linux users in particularly should find the extended support in v.1 satisfactory. For now, the simulator add-on is still branded with "Preview," which Mozilla says is due to its newness and the fact that it's still in development.
Firefox OS Simulator allows users to play around with Mozilla's still-in-development mobile operating system via their Web browser. After installing, users will be presented with a dashboard (accessible via "Tools -> Web Developer"). The OS simulator pops up as an application separate from the browser. You can check it out in action via the video below.
The Simulator add-on is a fairly hefty download, falling in the 50MB to 100MB range. The simulation includes most of Firefox OS's default applications, which is partly responsible for the large download size. Thusly, some users may experience the "Unresponsive Script" warning while it is being installed; Mozilla states that this is normal and to just click "Continue" and wait for the installation to finish.
[via Mozilla]