Mountain Lion's "Do Not Disturb" rumored for iOS 6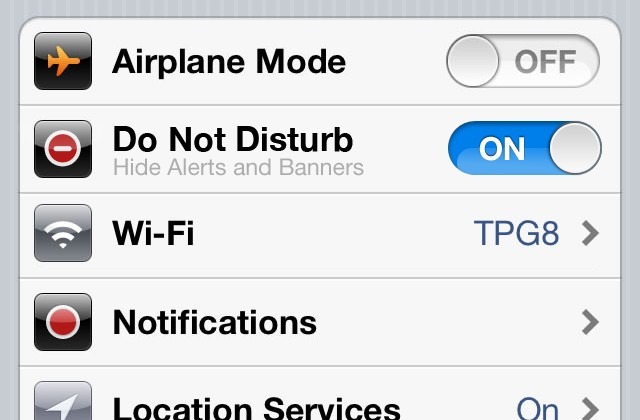 Not too long ago we heard details that Apple had included a "Do Not Disturb" feature in the latest Mountain Lion betas. When enabled, any alerts or banners would be hidden from the user to avoid distractions, but the Notification Center would still kick track of everything when you needed to come back to the important alerts. 9to5Mac has heard from trusted sources that iOS 6 will include similar functionality, plus additional features.
Notifications, despite their revamp in iOS 5, can still occasionally be obtrusive, so the addition of the feature to iOS 6 will be welcome. Sources have told 9to5Mac that the feature will be front and center in the main settings, just underneath the Airplane mode toggle, as the above mockup shows.
In addition, 9to5Mac hears that iCloud Tabs will be added to iOS 6, allowing users to view a list of open tabs in Safari. The feature does not automatically sync open tabs, but with a press of a button in iOS or on a Mac, a list of open tabs is presented, allowing you to select which ones to carry across to your device. The button is said to be presented underneath the Bookmarks toolbar.
The Mail client will also receive a new feature, Mail VIPs. Certain groups of people will be assigned a star next to their emails, and the groups can be arranged and sorted via iCloud appropriately. The VIPs will then be synced across any iOS 6 devices thanks to iCloud. Last month rumors also indicated that Apple is poised to overhaul the Maps application in iOS 6, removing Google Maps support and instead including its own mapping implementation.