Mountain Lion Retina Graphics Tip High-Res MacBooks Incoming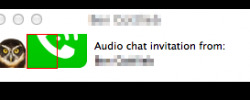 There were reports in Feburary that Apple were working HiDPI support into OS X Lion, which would allow resolution independence and sharper graphics on high resolution displays. More evidence has emerged today that Apple may be bringing Retina Displays to MacBooks in the future, with high resolution art for some UI elements being discovered in the latest Mountain Lion developer preview.
Ars Technica was tipped by a source to the latest changes. In the Messages app, a 2x size icon is being used for an audio chat invitation instead of the regular icon. You can see from the image that the icon is far larger than it's supposed to be.
The source infers from this slip up that high resolution Retina Displays are on the horizon for future MacBooks, "perhaps concurrent with the release of OS X 10.8." As previously reported, Apple has incorporated a HiDPI mode into OS X Lion, and 2x graphic elements have also been seen lurking within the OS.
Mountain Lion is due to be released in the summer, as are Intel's new Ivy Bridge processors. One of the benefits to Ivy Bridge will be an improved GPU, the Intel HD 4000, which would apparently bring a 30% increase in power over the HD 3000 found in the current MacBooks. That extra GPU power would help to drive the high resolution displays. The timing, then, seems to sit quite nicely. Fingers crossed for some Retina equipped MacBooks this summer.