Motorola's purple V3i makes me see red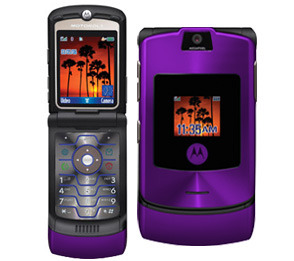 Hey, stop what you're doing!  You heard me, put down that breast pump and listen for a minute – Motorola have brought out a special edition of the V3i!  Yeah, cowboy, I knew that would get your attention; they've raided the Pantone colour charts and come up with a purple one, the swish swines.  Available exclusively from the MotoStore, it'll cost you $239.99 but isn't that worth it?
Actually, no.  Someone needs to send Motorola a telegraph with the words STOP. SERIOUSLY. STOP. bold and clear, because this dead horse flogging is out of control. 
Their press release reads like a trashy infomercial:
"a family pack that's twice as stylish at only $383.99 for two"
You would have to be weeping pure alcohol from your genitals to think that this is an exciting product rather than the dying throes of an old-in-the-tooth cellphone that's had a run-in with a crayon.
Motorola, trying to convince us that "the bright purple color makes this handheld the perfect gift for women who appreciate style, design and the latest technology" is simply not going to work.  Give up.
MotoStore [via MobileBurn]