Motorola XT720 hands-on [Video]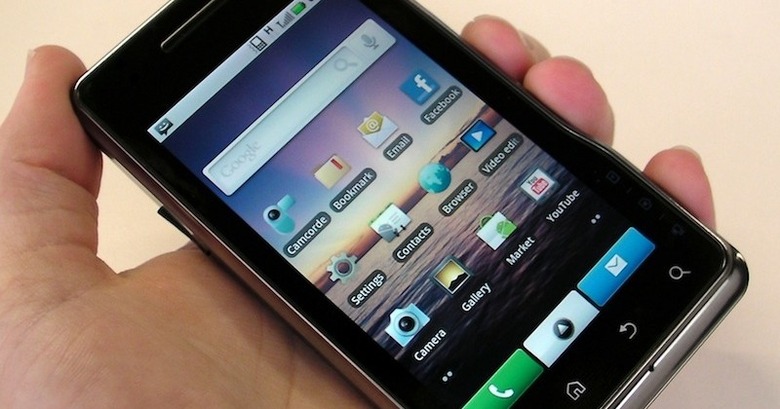 It takes a brave company – some might cruelly say foolish – to launch a touchscreen-centric smartphone on the same day that the next-gen iPhone is expected to debut, but Motorola are obviously confident enough in the new Motorola XT720 that they're willing to take on Cupertino. Based on the MOTOROI handset that launched a few months back in Korea, the XT720 could be summed up as a Motorola DROID without the QWERTY keyboard (and just 10.9mm thick as a result), though there's also an 8-megapixel autofocus camera with Xenon flash to sweeten the deal.Video hands-on and some first-impressions after the cut
Still, it's the same 3.7-inch WVGA capacitive touchscreen, Android 2.1 and HSDPA/HSUPA (10.2Mbps/5.76Mbps) as on the European-spec Motorola MILESTONE, along with the usual WiFi b/g (no 802.11n though), Bluetooth 2.1+EDR and USB 2.0. Motorola have added a type-D HDMI port, too, and unlike Sprint with the EVO 4G, will actually include the HDMI adapter cable in the box with the XT720. That's handy, since the phone supports 720p HD video recording and playback (though there's no DivX or Xvid support, only the usual H.264, MPEG4 and WMV).
Video records at 24fps, though we did notice some juddering when Motorola demonstrated HDTV playback; still, image quality was high, and still photos were also crisp and, thanks to the Xenon flash, well lit. As we're increasingly seeing on smartphones, there are no shortage of point-and-shoot style photography features on the XT720, including face recognition, image stabilisation and multiple shooting scenes (including a surprisingly effective Macro mode) and effects. Motorola will bundle an 8GB microSD card in the box, but the XT720 is content with up to 32GB cards if you'd prefer to upgrade.
Motorola XT720 hands-on:
[vms c36c46d02f9af3bef918]
Unlike, say, the recently announced Motorola FLIPOUT, the XT720 runs pure Android 2.1 with none of the MOTOBLUR social networking integration. That, Motorola tells us, is because the XT720 is targeted at mobile professionals; we also hoped it would mean faster updates to newer versions of Android, what with 2.2 Froyo already in the wild, but the company wouldn't commit to when – or even if – the new handset would see an upgrade. We're in two minds about the design, too; from the back it certainly looks like the distinctive, angular DROID for which we've a soft spot, but from the front it's a little underwhelming. The raised corner section is, Motorola reckon, so that your photography finger can find the camera shortcut more easily, but we think it spoils the lines a little. Next to the shutter release key is a camera mode button that cycles through the camera, camcorder and gallery, with icons illuminating underneath appropriately. There's a noticeable pause as that happens, and while the autofocus seems quick to lock, there's another pause before a photo is taken – enough, certainly, for you to accidentally introduce some blur by moving the phone slightly.
That could be down to Motorola's decision to underclock the XT720's processor. It's the same ARM Cortex A8 chip as in the MOTOROI, but whereas the Korean phone runs at 720MHz the ZT720 is underclocked to 550MHz. Motorola say that's because the MOTOROI had to do much more with its CPU than the XT720 – it had handwriting recognition, for instance, and an analog TV tuner – but we can see unlocking the full potential of the processor being an early challenge for the Android homebrew community. To be fair, much of the XT720 experience is slick and lag free, particularly navigating through photo galleries and the like, but there are a few pauses where we wish some extra grunt was on offer.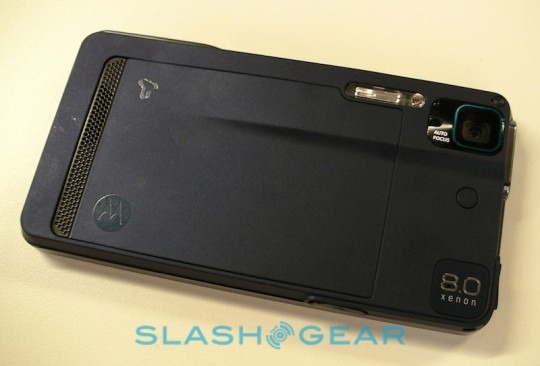 Otherwise the XT720 is pretty much as you'd expect from a recent Android device. There's the full suite of Google apps, including Google Maps Navigation, and Motorola also preload their own MotoNav app (or at least a trial of which). There's Flash Lite – Motorola say it's full Flash 10.1"ready" – together with Open GL ES 2.0 support, an accelerometer, proximity sensor, digital compass and GPS. Battery life is rated at up to 4.5hrs 3G talktime or 320hrs standby.
Motorola expect the XT720 to go on sale in the UK this month; in fact preorders from Expansys, Clove and Play kick off this coming Friday. No word on pricing, nor on launches elsewhere in the world.