Motorola XOOM 2 priced for pre-holiday launch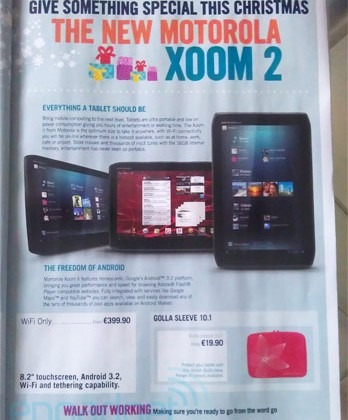 Launch details and pricing for the Motorola XOOM 2 tablet have leaked, tipping the new 8.2-inch Android slate as hitting the market in time for the holidays. Those in Ireland will be able to pick up the XOOM 2 for €399.90 ($545), Engadget's leaked Carphone Warehouse flyer suggests, for the WiFi-only version complete with Android 3.2 Honeycomb.
Other specifications include WiFi tethering support, but beyond that the text in the image is just slightly too small to make out. Still, we're expecting the usual mixture of a front camera for video calls, Bluetooth, GPS and likely 16GB+ of internal storage with a microSD card slot to augment it.
Motorola's use of Honeycomb comes as something of a disappointment, given we've already seen that Ice Cream Sandwich is intended for both smartphones and tablets, so hopefully the company will have an Android 4.0 update in the pipeline for shortly after the XOOM 2's release. We're also expecting to see a new 10-inch XOOM to replace the original model from the start of the year.