Motorola XBMC Remote control up for pre-order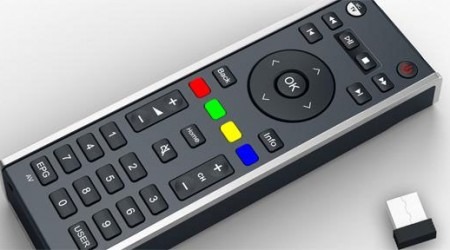 If you are using a Smart TV or another connected device that uses an onscreen keyboard entering data into the thing can be very tedious. Motorola has a cool remote control called the XBMC that is up for pre-order right now. The remote is called the Nyxboard Hybrid, will work with the XBMC system, and is the first specifically designed for the platform.
The device has an IR function and an RF adapter. The little adapter plugs into the USB port and it has a tiny USB adapter that you can plug in and forget. One side has traditional controls for media and the other side has a small QWERTY keyboard.
The remote also has a gyroscope so that it knows which side is up and disables the buttons on the other side. That is a key feature so you don't sit the remote down and end up changing things by hitting the buttons on the other side by accident. The remote is up for pre-order for $59.99 with June 27 as the ship date.
[via Tested]