Motorola X leaks in LTE testing as XT1056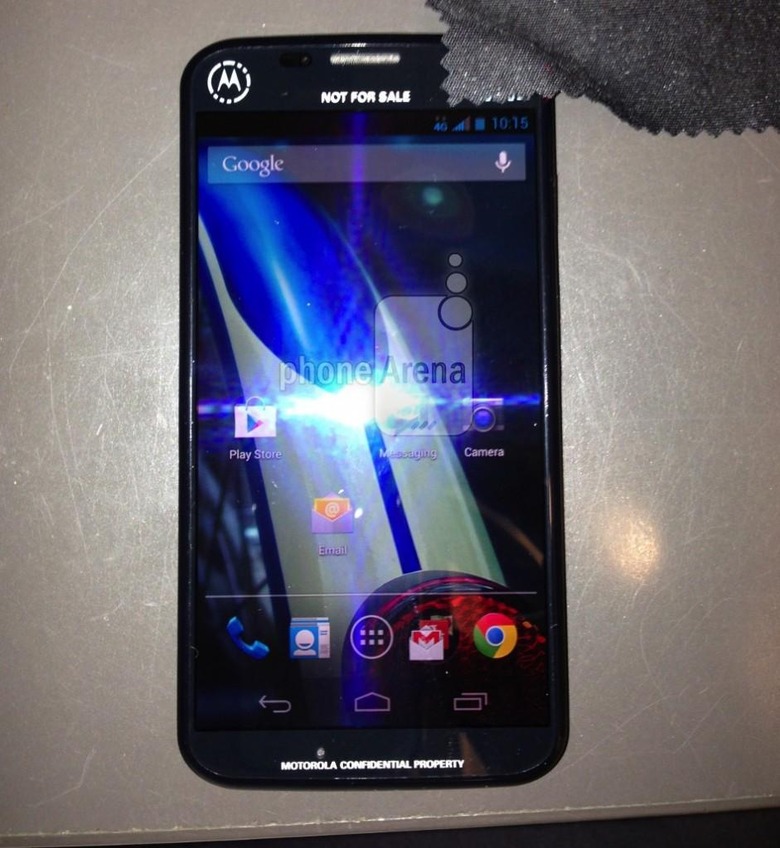 The much-anticipated Motorola X may well have been caught in the wild, with the smartphone believed to have been spotted in 4G carrier testing as the Motorola XT1056. The image, leaked to PhoneArena, shows a "confidential"-marked handset running Android on what's expected to be a 4.5- to 4.7-inch display.
According to the source of the photo, there wasn't the opportunity to actually measure the display, so it's unclear how closely it matches up to previous rumors about specifications. So far, we've heard that the MOTO X will have a 4.7-inch panel – running at 720p HD, rather than 1080p like the HTC One – and use a 1.7GHz Qualcomm Snapdragon processor.
There's also expected to be 2GB of memory and 16GB of storage space, the latter of which the tipsters supposedly confirmed. OS is, on this tester model at least, Android 4.2.2, and there's confirmation of a removable battery.
The leak comes while the XT1056 is in 4G LTE testing on Sprint's fledgling network, it's claimed, and ahead of what's widely expected to be an official announcement on August 1st.
The Motorola X has built up quite a following even ahead of launch, predominantly because it's said to push the envelope in terms of context. The phone will be "contextually aware of what is going on around it" Motorola's Dennis Woodside said last month, using its various sensors to adapt behavior to suit the environment and usage patterns.
So, Woodside suggested, if you're in a car then the Motorola X's GPS will tell it you're moving at speed, and the interface you see, or the apps you have access to, could be changed to suit what's safe to do and what functionality you're most likely to have access to. Alternatively, the user will be able to set preconfigured responses to different actions, such as taking the MOTO X out of a pocket.
That context-awareness is, Motorola apparently hopes, the company's way of stepping off the specifications bandwagon. In contrast with other flagship devices from rival firms, the leaked hardware details we've seen so far are somewhat conservative; still, if Motorola can do more intuitive, useful things with that hardware, it may be enough to distract people from the usual spec-sheet bingo.