Motorola unveils S11-FLEX HD Bluetooth headphones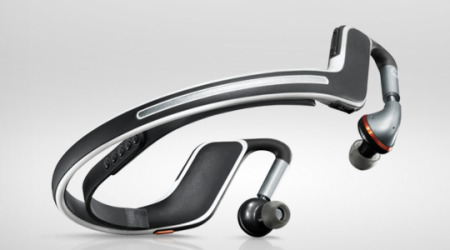 If you're constantly on the lookout for your next pair of wireless headphones, you might want to take a look at the new Motorola S11-FLEX HD wireless headphones, which combine the best of both worlds. One look at the image below and it's pretty clear that adventurous types won't have to worry about their headphones slipping off too often, as these not only wrap around the back of your head, but the earbuds wrap around your ears as well.
This means that you have a set of headphones that will stay put, which is always a plus when you're doing a strenuous activity like hiking, mountain biking, or running. Of course, we don't all have the same size skulls, so one-size-fits-all headphones more often than not don't fit everyone. Luckily, the S11-FLEX HD headphones come with an adjustable inner strap that will help keep them secure. The outer band is also flexible, so if you need even more space after adjusting the inner band, you're set there too.
These headphones connect wirelessly to your device through Bluetooth, and Motorola is saying that they can pick up a signal from up to 150 feet away. That's quite a long range, all things considered, meaning that you can leave your device inside and still listen while you do yardwork, or get up and go to a different room without having to worry about losing your signal. Motorola is promising "better-than-wired sound" with these bad boys, but that will ultimately be for consumers to decide.
With the S11-FLEX HD headphones, you're also getting one-touch EQ controls, volume controls, and a charge time that is ridiculously short: only 5 to 15 minutes. Not too bad, but if you want a pair, you've got a while yet to wait, as they won't be available until October 28. They'll be $130 when they arrive too, so be prepared to hand over a decent chunk of change when you go to purchase a set. What do you think? Does Motorola have your money with these new headphones?
[via Android Community]