Motorola unveils Atrix HD Developer Edition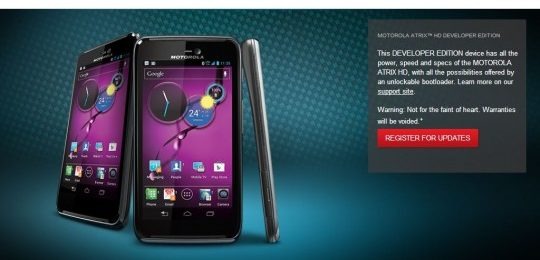 Motorola's been pushing out Developer Editions of some of its handsets lately, including the RAZR HD and the RAZR M. Now the Atrix HD is getting its shot, with Motorola announcing the new Atrix HD Developer Edition. No word on when it's going to be available, but considering that it's already up on the Motorola website, it looks like "soon" is a safe bet.
Motorola's Developer Edition smartphones come with an unlockable bootloader, with instructions available on the manufacturer's website on how to go about unlocking your phone. And obviously, by unlocking the bootloader, your warranty will be effectively torn into little pieces. If you're ordering the Developer Edition, though, odds are a warranty isn't on your list of concerns.
The Motorola announcement is pretty scarce on details, with no word on when we can expect the Atrix HD Developer Edition or how much it will cost. Those interested in the handset can sign up over on Motorola's website to receive more info as it comes available. Keep in mind that the Developer Edition will naturally be more expensive than a regular handset, as well as the cost of having to pay full price rather than a contract-subsidized fee.
The Atrix HD features a 4.5-inch HD ColorBoost LCD display with a 1280 x 720 resolution. Inside you'll find 1GB of RAM/8GB of ROM and a 1.5GHz dual-core Qualcomm Snapdragon processor. There's a microSD expansion slot with support for up to 32GB. The battery is a modest 1,780mAh, and offers up to 9 hours of talk time and 8.5 days of standby.
[via Android Community]