Motorola Solutions LEX L10 empowers first responders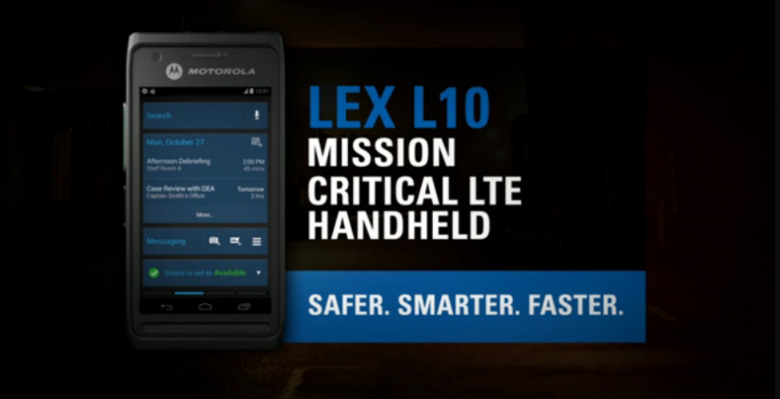 There's almost a smartphone for everyone, whether they be kids, teens, older users, or industrial workers. Those that work to ensure our safety and security now also have a smartphone that caters to their needs. Motorola Solutions has unveiled the LEX L10, the latest of its LTE enabled devices designed for first responders. Powered by Android, this smartphone isn't like your run of the mill rugged smartphone that usually sport mediocre specs. The LEX L10 is hardy both inside and outside and also has the power to show for it.
As a first responder's device, this smartphone needs to be as rugged as rugged can be. An IP67 rating plus MIL STD 810G certification pretty much takes care of that. The LEX L10 also has rubberized top and bottom edges and the most scratch resistant Gorilla Glass 3. A no-slip grip texture ensures that you won't have to worry about accidentally dropping it in the first place.
But while most rugged smartphones in the market exchange power for toughness, the LEX L10 makes no compromise. It runs on a 2.3 GHz quad-core Qualcomm Snapdragon 801 and has 2 GB of RAM and 16 GB of storage. It has a 2,280 mAh battery but there is also a higher capacity option of 4,680 mAh with an advertised life of 20 hours. The display is a 4.7-inch 1280x720 screen. It has an 8 megapixel rear camera, a 2 megapixel front shooter, triple microphones, and dual 1-watt front facing speakers. But don't confuse this for a multimedia smartphone, as those features will be employed more for emergency purposes.
Of course, the LEX L10 is equipped with features, both hardware and software, designed for a specific use case. The user interface, for example, is quite indistinguishable from a regular Android skin, using instead a Public Safety Experience (PSX) interface that puts the most important information and functions front and center. As a public safety device, data security is also important, and so in addition to Android's own security enhanced features, it also adds its own hardware encryption module. It has a dedicated and textured push-to-talk (PTT) button that makes it easier to use even in the dark. And speaking of dark, there is also a Covert Mode that turns the smartphone into a discreet night-time stakeout companion.
As for LTE compatibility, the Motorola LEX L10 works on Verizon's networks, bands 13 and 4 to be exact. But in addition to that, it also has access to Public Safety LTE, a.k.a. Band 14. It has dual SIM slots so users won't have to pick between the two and is also equipped with "Mission Critical Bluetooth" for faster and more secure transfers, but this feature only works with other Motorola devices.