Motorola S10-HD Bluetooth stereo headset is sweat-resistant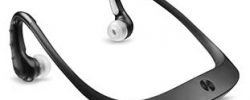 The Motorola Oasis isn't the only Bluetooth headset coming out of Motorola this morning; the company also has a stereo model called the S10-HD.  Billed as sweat-proof and water-resistant, the S10-HD has "hydrophobic acoustic mesh" covered speakers, silicone seals around the ports and seams, and a rubber flap for the microUSB charging port.
The headset will also work as a hands-free kit, pausing music automatically whenever a call comes in, then resuming playback when they end.  Battery life is tipped at up to eight hours of audio or nine hours of voice calls, or alternatively up to ten days of standby, and there are buttons to control playback and calls.
As with the Oasis, the Motorola S10-HD will be priced at $79.99 when it drops on October 24th.  It'll be available in Best Buy and online.