Motorola RIZR wins FCC approval; fashionistas' breath bated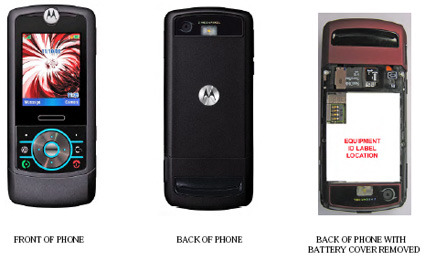 Rumours abound that Motorola have won the 2006 award for Milking a Derivative Design, which will be announced at a glitzy ceremony in Las Vegas next month, but until that's officially confirmed we'll just have to make do with the latest bearer of the RAZR V3's DNA, the RIZR.  What does that single letter-swap get you?  Well, it gets you a slider phone that seemingly runs the same OS as the current wafer-thin Motorola models and distinguishes itself solely by virtue of the new (for designs outside of Japan) method of opening.
The ever-helpful FCC have given us an early draft of the user manual and some pictures; you'll have to wait for anything else.  Personally speaking, I'd love it if Motorola could do some innovative designing that will give me the same "oh goodness, I simply must have that" feeling I had when I first saw the V3.