Motorola DROID RAZR Review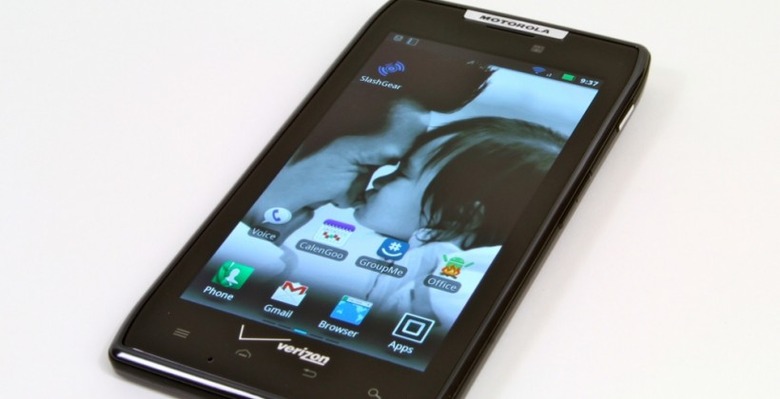 Motorola's DROID RAZR has a lot to live up to – and a clear warning around how to drop the ball in mobile strategy. Named after the slimline clamshell handset that changed Motorola's fortunes in 2004, this new dual-core Android promises to be the world's thinnest smartphone with power and performance to match. Thing is, Motorola quickly milked the original RAZR to death, pushing out special edition variant after variant while the market left its underwhelming specifications behind. Is this new DROID worthy of the RAZR name? Read on for the full SlashGear review.
Hardware
Big and flat. The DROID RAZR – which will drop the "DROID" prefix outside of the US – follows other recent Android smartphones in the race to be the world's thinnest device while still offering a huge display. It comes in at 131 x 69 x 7.1 mm, although there's a bump for the camera which bulges out to around 11.1mm, and is fronted by a 4.3-inch 960 x 540 qHD Super AMOLED Advanced touchscreen. Overall it's slightly thinner but both longer and wider than the 4.5-inch Galaxy S II; at first, it feels good to hold, but gets tiring over a period of using it. The width makes it tough to get a good grip, and the narrow edge buttons – for volume and lock – are tricky to locate with a finger.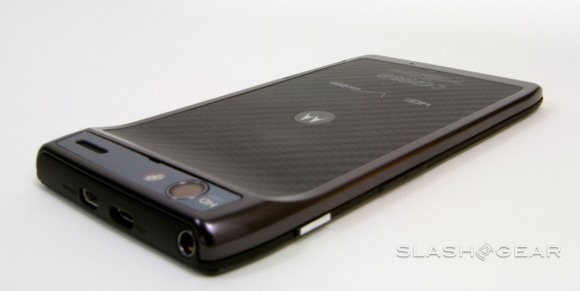 The camera bulge isn't the only compromise Motorola has made to achieve its thinness marketing. The 1,780 mAh battery is non-user-accessible, and the bezel on either side of the display seems unnecessarily thick having used Samsung Super AMOLEDs. Still, the panel itself goes a long way in making up for that: it's an amazing screen, white is white and black is black, and it shows off photos, webpages and video brilliantly. Covering it is a sheet of Gorilla Glass, probably vital given people will be slotting the RAZR into tight pockets.
Motorola DROID RAZR Unboxing and Hands-on:
Inside there's a TI OMAP4430 1.2GHz dual-core processor, paired with 1GB of RAM and 16GB of flash storage. A microSD card slot is present, as is a Verizon SIM for the LTE; you also get EV-DO Rev.A for areas without 4G coverage, but no World Phone support. GSM versions of the RAZR will lack LTE but have quadband GSM and triband UMTS/WCDMA instead. There's the usual WiFi, Bluetooth, GPS and various sensors, along with a rear 8-megapixel camera with autofocus and an LED flash, capable of 1080p HD video recording, and a 1.3-megapixel front-facing camera good for 720p video.
Motorola will also offer a range of accessories for the DROID RAZR, including the Lapdock 100 we reviewed recently. There's a full RAZR accessory review over at Android Community.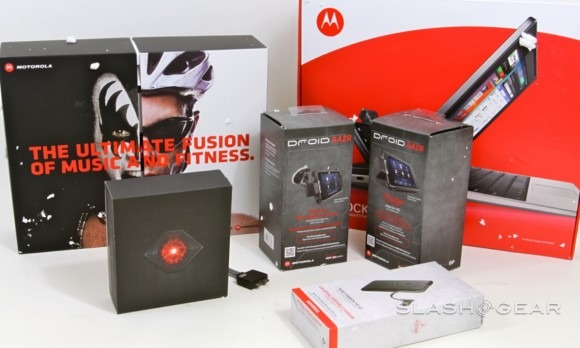 Software
The RAZR runs Android 2.3.5 Gingerbread, though Motorola has confirmed that an Android 4.0 Ice Cream Sandwich update is in the pipeline. On top of that, Motorola has made some UI customizations as well as adding a Smart Actions app that promises to not only make using the RAZR more straightforward, but prolong battery life too.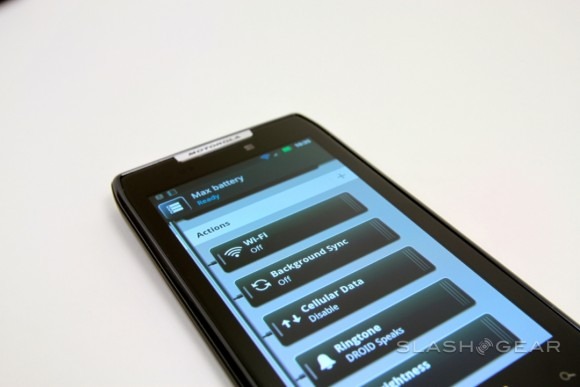 Motorola has thankfully stepped away from its all-consuming MOTOBLUR experience, and as with other recent smartphones from the company its more of a custom icon set and color scheme than a true reskin. Those looking to install their own custom ROMs should know that, in the US at least, the DROID RAZR will come with a locked bootloader, though rooting the smartphone is still possible. The GSM RAZR will apparently come with its bootloader unlocked.
Motorola DROID RAZR Review:
Smart Actions has a lot of promise, basically allowing you to set up custom routines that are automatically triggered depending on external or internal circumstances. So, you can have the RAZR shut off cellular data and GPS when it's on your home or office WiFi, based on the assumption that you'll need neither in that situation, or have the ringer automatically muted between certain hours of the day or night. Certain contacts can have a text message automatically sent if you miss their call. Custom actions are straightforward to set up, after some initial exploration, and can be easily deactivated if you need to overrule them temporarily.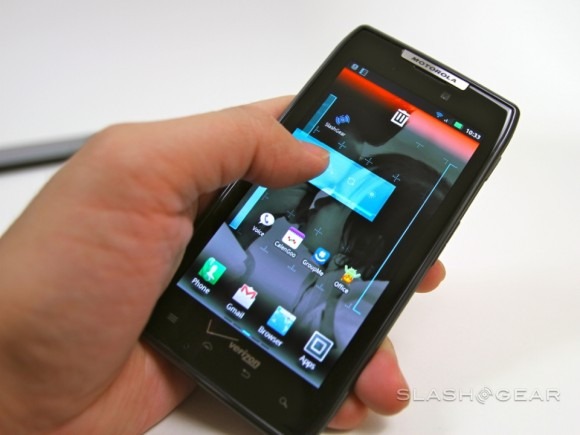 Motorola is pushing Smart Actions as a way to bypass some of the battery complaints we've leveled at other LTE handsets. It's possible to set the phone to a true sleep mode, only turning on data and synchronizing your various accounts when you unlock it or pick it up. Unfortunately, we were unable to set the RAZR to automatically turn on WiFi when we got back home, which meant we had to do that manually in order for the data/GPS Smart Action to occur. As a free app it's useful in places, but it still needs some refining.
Camera
8-megapixels and Full HD video has become the baseline for Android flagships, but we've seen on several occasions that spec sheet compliance doesn't necessarily equal top-tier performance. The DROID RAZR falls into the middle ground for camera quality, it's not the best we've seen, but neither is it the worst.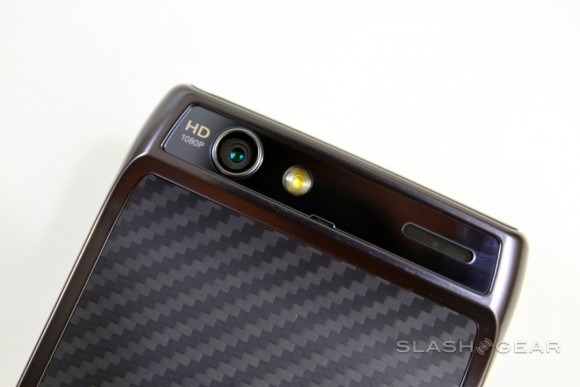 As in iOS 5 and Ice Cream Sandwich, there's quick camera access from the lockscreen, but if you've PIN-protected your RAZR then you'll still have to punch in the code before you can take a photo. The handset is slightly slower to lock focus and be ready to shoot than the iPhone 4S and, based on our previous experience with the newest Googlephone, the Galaxy Nexus, too.
Stills are better than we've seen on other recent Motorola phones, though as usual they demand good light if you want decent results. Even outdoors they can look dark and lose detail in shadows. Indoors, the single LED flash struggles and pictures look grainy. Colors are accurately balanced but muted: there's none of the pop that we've seen on images from recent Samsung devices or the iPhone 4S.
Video, meanwhile, has a surprising amount of noise, and the color balance is unimpressive. We saw some focus-hunting with closer subjects, too. The digital image stabilization is reasonably successful, but overall it falls short of what rival devices can do with 1080p.
Motorola DROID RAZR 1080p HD video sample:
Phone and Battery
Call quality on Verizon's CDMA network was solid, hiss-free and safe from drops. The earpiece and speaker occupy the RAZR's "hump" and so are given a little extra space to do their thing, and the result is decent in-call volume and clarity. Data performance, meanwhile, delivered the Verizon LTE speeds we've grown accustomed to, with download and upload rates besting what many people expect from their home broadband connections.
The launch of the DROID RAZR also sees a new data promotion on Verizon arrive, with double the monthly allowance offered for the same price. So, opt fro the 2GB plan, at $30 per month, and you'll get 4GB instead. The $50 5GB plan and $80 10GB plan are also doubled, though overage remains at $10 per gigabyte. The promotion applies to any Verizon 4G smartphone, not just the RAZR, and will be offered for a limited period; existing customers can also get in contact with Verizon and have double data allowances activated on their account too.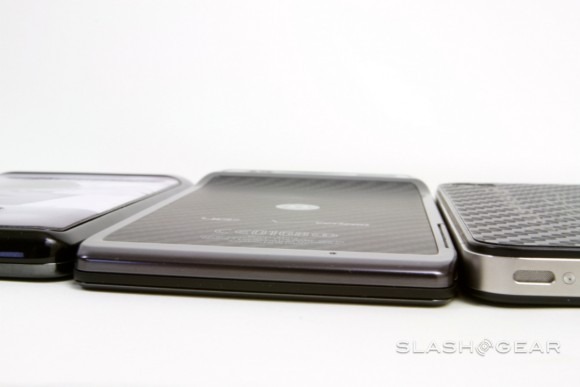 The data is fast, then, but the speed at which the RAZR gulps down battery life is also rapid. Motorola was off to a good start, fitting a 1,780 mAh Li-Ion pack into the DROID RAZR's chassis, but we've still been unimpressed with how fast it's run down. On WiFi, with cellular data turned off, the full battery dropped to 90-percent in under 30 minutes. Over the space of a couple of hours, with minimal usage, it burned through 40-percent. That's with LTE turned off, mind: we raced through 40-percent of the battery in less than an hour of 4G data use.
Motorola claims to have had significantly better performance from the RAZR's battery than we experienced. The company also sent us an portable external charger, which works but is certainly less convenient than a replaceable battery. We'll continue testing and update after more time with the RAZR, in case some extra conditioning lengthens runtimes.
Wrap-Up
There's plenty to like about the DROID RAZR. The display is superb, performance is swift and Motorola's commitment to Ice Cream Sandwich is, in these times of Android fragmentation, welcome. Although thanks to the "hump" Motorola's thinness claims aren't entirely true, the DROID RAZR is certainly slim and easy to pocket.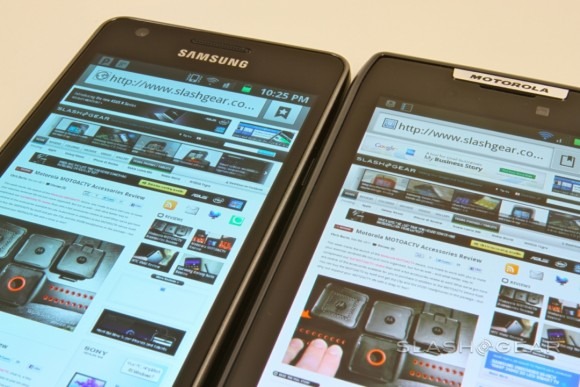 Unfortunately, like the original RAZR, there are also compromises made to achieve a slimline package. Motorola's battery is, in our experience, insufficient, particularly if you want to make prolonged use of LTE – and, based on the speeds we've consistently seen from Verizon's 4G, you really do want to use it – and the form-factor can be uncomfortable to hold over extended periods. The camera is an excellent example of how spec-sheet features aren't the sum total of the story.
The first RAZR had fiddly buttons, a rubbish display, confusing software and a poor camera. It also marked a true shift in cellphone design, shaped the market and cemented itself as a style icon (despite Motorola's best efforts to sour that as the years went on). The DROID RAZR won't redefine the industry but it will undoubtedly be a fashion favorite, particularly for those who aren't swayed by the incoming Galaxy Nexus' slightly chunkier, curved design. Still, the experience of Ice Cream Sandwich on the narrower Nexus may give the DROID RAZR only a small window in which to make its mark.