Motorola PHOTON 4G Announced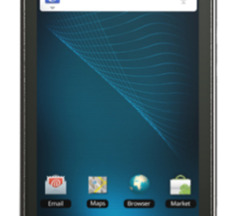 There comes a time in every phones life when a device comes out to overshadow it. That's what's happening here today in New York (on June 8th, 2011,) with the ATRIX 4G, it being stoppered by the Motorola PHOTON 4G with a whole new form factor and name. That's not to say that it's better in every way, no way, it's got many of the same insides as the former. But truly if there were a next step after the ATRIX in the Motorola library of devices, this would be it.
This device has a unique diamond-shaped body, is running Android 2.3 Gingerbread out of the box, and is running a 1GHz NVIDIA Tegra 2 processor, this meaning you'll instantly have access to everything in the Tegra Zone app store – sweet games galore! And it's got another unique form feature that your humble narrator is just flipping about – a kickstand. Every great phone needs a good kickstand to keep its head held high, right?
This device has an 8-megapixel camera on the back with 720p video capture, the ability to output 1020p video through HDMI cable, and several other features that make this no ordinary HDMI-capable device. These include Motorola Media Link, "Mirror Mode" which is essentially HDMI mirroring again, and a lovely display for self-playing of movies at 4.3" qHD. The PHOTON connects through several docks including the classic Multimedia Dock and a Car Dock – strange!
The photon is equipped with the ability to connect over 3G and 4G, allowing then up to 8 users to connect to the internet with its portable hotspot, then as far as GSM roaming, only a single phone will be allowed to connect. It's worth noting that this ability will not be available out of the box and instead will be working upon distribution of a later update to the phones system. This device will be available sometime inside Summer 2011.