Motorola Motus spotted; unusual form-factor vaunted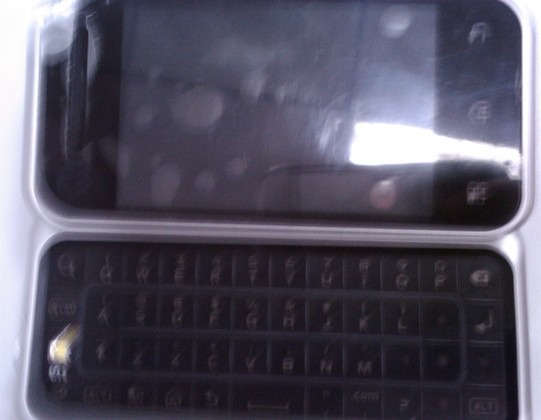 Perhaps we're naive, but we'd have thought that the sort of people who get early access to unannounced mobile phones would also have a decent camera, but perhaps it's the thrill of the unknown that causes heavy hand shake.  No matter, you're looking at a blurry image of the Motorola Motus, the company's mid-rage Android smartphone expected to arrive in 2010, that showed up at the Motofan.ru forums.
Complete hardware specifications are unconfirmed, but as the photo obviously gives away there's a full QWERTY hardware keyboard and CLIQ-style iconography below the display (though this time with soft-keys rather than hardware buttons).  The 'board doesn't look especially ergonomic, however, so we'll have to withhold usability judgement until we have a hands-on play ourselves.
One interesting suggestion with regards the form-factor is that the keyboard flips back and that the yellow spot is actually part of the 5-megapixel camera optics.  When closed, the QWERTY would actually be visible on the back of the handset.
[via BGR]