Motorola Moto X Skip accessory offers tap-to-unlock

Motorola has added a Moto X accessory to its online store, the Moto X Skip. As its name suggests, this accessory allows users to "skip" the usual unlock procedures and instead unlock the handset with a simple tap. There was previously an app related to its in the Play Store that has since been pulled, but support documents found by the folks at Droid Life for it are still available.
In addition to the app being pulled from the Play Store, the accessory page itself has also been removed from the Motorola website, leaving only the support page live. In it, we see simple instructions for using the accessory, which a user clips to his or her clothing. When set up, the handset can then be tapped to the accessory for automatic unlocking rather than dealing with pins or passwords.
According to the support page, "Motorola Skip is a wear-it-anywhere accessory. It allows you to easily unlock your phone with a single tap." Users are directed to a "Skipsetup" page on Motorola.com that directs to the Play Store, where one must tap "Update." At this point, the user then needs to make sure that NFC is enabled on the handset under Settings. Setup begins after this point by simply touching the Skip accessory to the back of the Moto X, pulling up the page you can see below.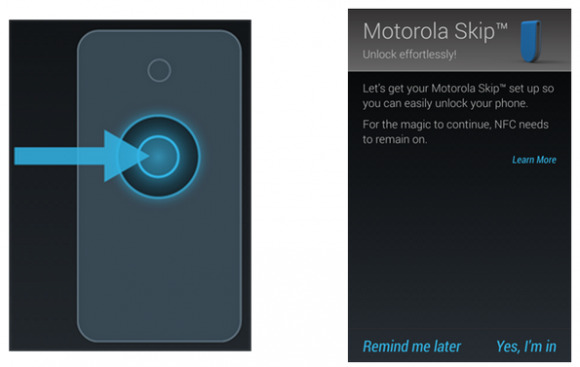 One can use multiple Skip accessories (one for at work and one for at home, perhaps), naming each uniquely to help keep them separated. The names can be changed or unpaired, depending on need, under the Manage NFC Unlock under Settings -> Security. The accessory is priced at $19.99 USD. That's all that is known about it for now, but we'll update you when the accessory is officially launched or we hear more.
VIA: Android Community