Motorola Moto E Review: Flawed Affordability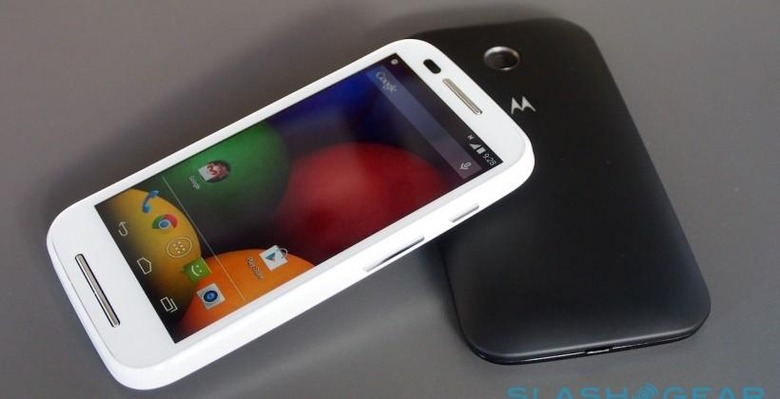 A smartphone for the cost-conscious. Going SIM-free and eschewing carrier subsidies has been slow to catch on in the US, but with T-Mobile USA's "Uncarrier" movement gaining pace, perhaps the time is right for handsets that bear their true sticker price. Motorola is aiming big with the Moto E, but it's walking a cautious and tricky balance between specs and savings.
Hardware and Design
If you've seen the Moto X or Moto G, the Moto E won't come as a surprise aesthetically. With a 4.3-inch screen and curved back, its 124.8 x 64.8 x 6.2-12.3 mm plastic body nestles into the palm nicely. None of the obvious premium appeal of a metal phone, of course, but then again nothing that screams "cheap" either.
Motorola will let you pull off the back covers and replace them with different colored panels, each clocking in at around $15 apiece. Frustratingly, while you can see the battery through a cutaway notch of plastic, you can't actually remove it yourself. The rest of the device is sober, though I could do without the two slices of chromed plastic on the fascia, which seem a little tacky.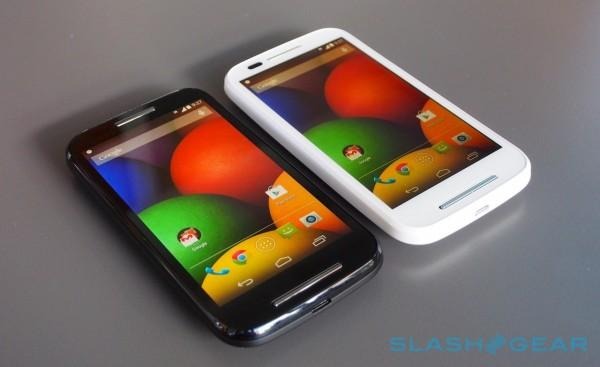 The 960 x 540 IPS LCD screen is protected by a sheet of Corning Gorilla Glass 3, and while the qHD resolution may not impress anyone familiar with the current breed of high-end devices, it's sufficient for a device of this scale. Colors and brightness are good, though viewing angles are a little narrower than I'm used to: not a problem if you're looking straight on, but things get patchier when you look at it askance.
Inside, Qualcomm's Snapdtagon 200 1.2GHz dualcore gets 1GB of memory, Adreno 302 graphics, and just 4GB of internal storage. That's a pretty poor amount, to be frank, particularly when you figure that out of the box you have just half of it free, and though there's a microSD slot it'll only handle cards up to 32GB in size.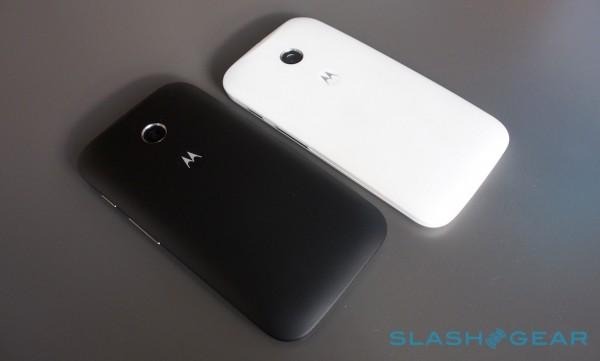 Connectivity includes GSM/UMTS/HSPA+ up to 21 Mbps (850/1700/AWS/1900 in the US) and there's a CDMA/EVDO Rev.A version too. Neither has LTE, which comes as little surprise given the $129 price tag, nor NFC. Instead, you get WiFi b/g/n and Bluetooth 4.0, along with an FM radio.
Software and Performance
Motorola has wisely stuck to its previous form and delivered an almost untampered version of Android 4.4.2 KitKat, meaning the Moto E is pretty much as close to stock as you can get without being a Nexus device.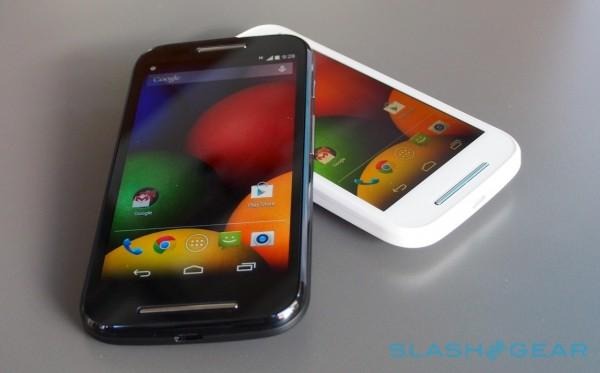 There are a couple of apps preloaded, such as Motorola Migrate to help transition data from old phones to new, and Motorola Assist, which adds a "Do Not Disturb" mode – with VIP contact override – that automatically kicks in when the calendar spots you're busy. There's none of the always-listening Google Now of the Moto X, however.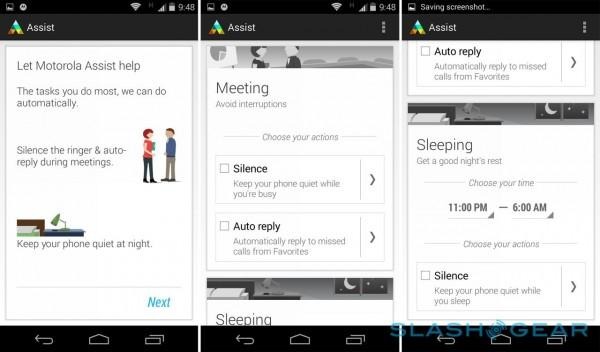 Motorola's newest app is Alert, which tries to be both serious and flippant. On the one hand, there's a "Meet me" button which tells a set ground of friends where you are; on the other, an "Emergency" button pushes out an SOS notification. It perhaps makes sense if you're giving the Moto E to an elderly relative or child, though whether they'd be able to hit the panic button in an actual emergency situation is questionable.
What impressed me most, though, was how well the Moto E runs. It specifications may be toward the "humble" end of the scale, but in day to day use I have no complaints. It managed a few different email accounts, some Spotify streaming, browsing, messaging, and Google Maps with no problems. In SunSpider, the test of browser Javascript performance, it completed the test in 1,750.1ms (faster is better); benchmarking test Quadrant saw a score of 5,192.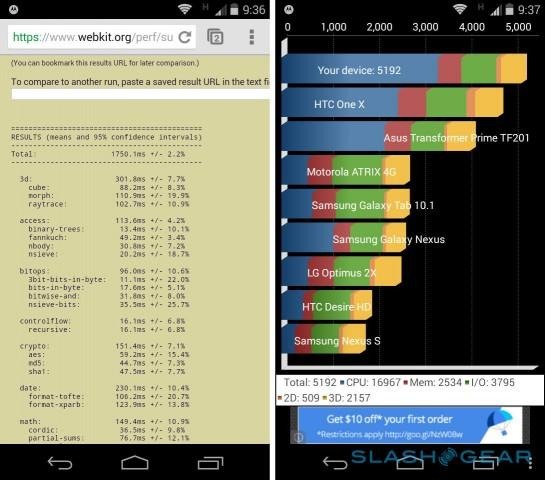 Sure, you're not going to be doing any gaming on the Moto E, and the limits of the display means checking out desktop versions of websites involves plenty of zooming and scrolling, but it's an overall experience that belies the price. The target audience doesn't care about benchmarks, but only that the phone responds as it should, and on that front the Moto E is definitely capable.
Camera
Motorola's cost-cutting shows its hand most noticeably in the camera abilities of the Moto E. On the back, there's a 5-megapixel sensor with no LED flash and, more annoyingly, no autofocus. The front, meanwhile, misses out on a camera altogether: if you're planning to give the Moto E to a selfie-obsessed teenager, then they'll have to become proficient at lining up their vanity shots without seeing the display.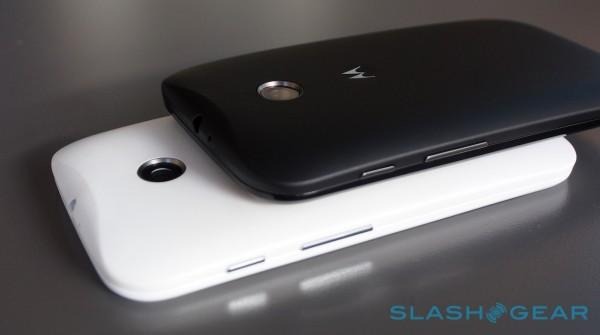 The camera app is simple to the point of minimalistic. With no autofocus to set you simply tap anywhere on the screen and the shot is captured (with a split-second more lag than I expected, it has to be said). Sliding a finger up and down the screen controls the 4x digital zoom. HDR mode kicks in automatically by default, though can be manually turned on or off if you prefer.
If none of this sounds promising for the actual images, you're right to be pessimistic. Images lack detail, struggle in low-light conditions, and the fixed-focus means close-ups are pretty much impossible. The HDR mode is a saving grace, coaxing some extra brightness out of images, but in general the camera is the weakest point of the whole Moto E.
As for video, the Moto E can't even manage 720p, with footage topping out at just 854 x 480 resolution. I tried it a couple of times and then gave up on it. Ironically the phone will play 720p, even if it can't record it.
Battery
That the 1,980 mAh Li-Ion battery is non-removable is no great hardship: turns out, the Moto E has some serious legs on it. Motorola claims up to 24 hours of "mixed usage", but in practice I was able to get well into a second day on a single charge. Those with less ambitious expectations could probably prolong that even more.
Wrap-Up
Competing on price is a tough business. The race to the bottom end has seen firms like Huawei and ZTE flourish, though perhaps not in the US where Motorola at least has brand advantage. The $129 Moto E is ambitious in a similar way to the Moto G, undercutting its midrange sibling by $50, and delivering a surprising combination of abilities frankly unusual on a device in this sort of range.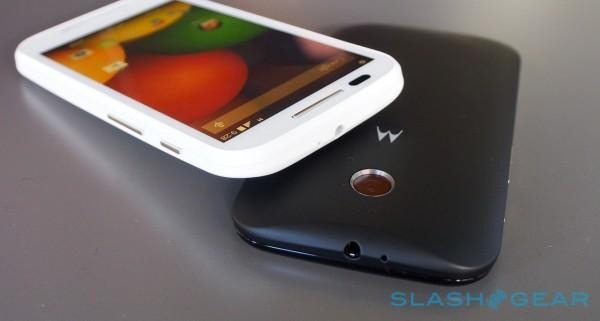 That's not to say it's a complete success. Those with any sort of inclination toward photography should cough up the extra for the Moto G if they're settled on owning a Motorola, and the mid-tier handset's battery life is a little better too, not to mention its processor more powerful. In short, you get a lot for your $50 more.
As a gateway to reliable Android ownership, however, the Moto E packs an impressive punch. Camera aside, I'd struggle to fault Motorola's decisions in specifications, and while the design is uninspiring, it's at least well put together. That counts for a lot, and I can't help but welcome a company looking to innovate as much in price as it does in whiz-bang hardware.