Motorola lists phones that won't get updates to Jelly Bean

We may receive a commission on purchases made from links.
Back when Motorola announced the DROID RAZR HD and the DROID RAZR M, it made a commitment to upgrading the majority of its phones to Android 4.1 Jelly Bean. When it made this commitment, the company said that it would give users who didn't get updated $100. Naturally, no one was expecting Motorola to upgrade all of its handsets to Jelly Bean, and today, the company revealed a list of phones that will qualify for the $100 rebate.
However, there's a bit of a catch. Motorola isn't just going to give you $100 because your phone isn't receiving Jelly Bean, after all. In order to get that money, you'll need to trade up to one of six recently-release Motorola phones. The handsets you'll need to trade up to include the Atrix HD, DROID RAZR MAXX HD, DROID RAZR M, DROID RAZR HD, Electrify 2, or PHOTON Q. As you can see from the list posted below, quite a few Motorola phones qualify for the promotion.
Those devices that qualify include the original Electrify, the Atrix and the Atrix 4G, the DROID 3, and the DROID X2. If you don't see your device on the left side of the list, it seems that you can expect an update to Jelly Bean at some point in the future. Motorola has set up a page on its site for interested users looking to take advantage of its trade up program.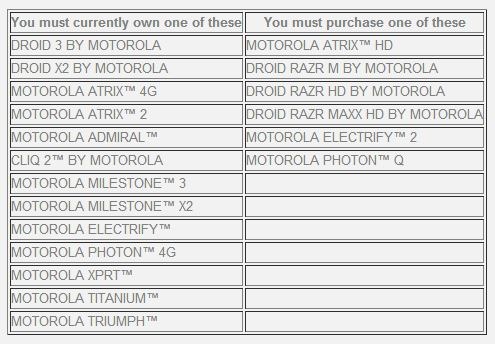 Of course, it's important to remember that if you're currently on contract, early termination fees will still apply if you decide to get a new phone through Motorola's trade up promotion. Essentially, you can look at this as a $100 rebate on an upgrade to a phone that will have or will be getting Jelly Bean, rather than getting $100 in cash as an apology for not getting an upgrade to Android 4.1. Will you be taking Motorola up on its $100 rebate offer, or will you be sticking with your current phone now that we know all of the details?
[via Android Community]