Motorola i465 QWERTY iDEN handset: uniquely ugly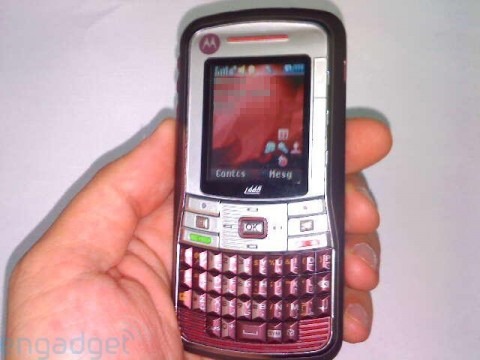 Motorola will release an iDEN push-to-talk capable handset targeted at messaging-addicts in 2009.  While details such as carrier and specific release date are unknown, it's clear that the Motorola i465 is a basic handset rather than any sort of smartphone, using Motorola's own in-house OS rather than Windows Mobile or Android.
In addition to messaging – which is likely to include basic IM together with SMS and MMS – and PTT, the i465 has Bluetooth 2.0 and a VGA resolution camera.  Certainly not specs likely to blow anybody away, but given the limited availability of QWERTY-enabled phones on iDEN networks – just a few ageing BlackBerry devices – it'll inevitably find an audience.
One possible salvation for the Motorola i465 is if Boost choose to offer it on their competitive data tariffs, which are much prized by some mobile users.  Give the handset the ability to be used as a tethered USB modem, and it could find more buyers than the, frankly, ugly appearance would suggest.