Motorola i1 is World's First Push-to-Talk Android Smartphone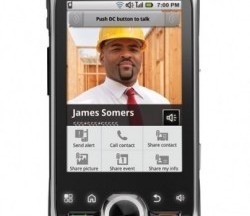 We may receive a commission on purchases made from links.
Sprint is continuing to push ahead with their Android-powered handset revolution. This time around, they've got their hands on the world's first Android-powered Push-to-Talk handset. It's going to be utilizing Sprint's Nextel Direct Connect network, so if you're a fan of that kind of thing, this device should be right up your alley. Other than that, the features are just about as standard as they get.
It's got the 3.1-inch HVGA touchscreen display; the 5MP camera with flash; MicroSD card slot; WiFi; and EVDO Rev.A. It's also got Bluetooth for all your handset-free talking, and Motorola has taken it upon themselves to pre-load the Opera Mobile Mini web browser, and the Swype keyboard. It's got some means to protect itself from dust, drops, rain, and vibration, all up to par with military specifications.
Unfortunately, Motorola is telling us that we'll have to wait until summer for this thing to show up, but we don't know how much it will be. With CTIA 2010 going on this week, we're sure that we'll see some kind of word on this before the end of the week. Is the i1 something you'd be interested in? Full press release just below.
Press Release:

Motorola and Sprint Announce World's First Push-To-Talk Android-Powered Smartphone – Motorola i1

Combines military spec ruggedness with the latest in smartphone technology, into a sleek touch screen design

LAS VEGAS – CTIA WIRELESS – March 22, 2010 – Motorola, Inc. (NYSE: MOT) and Sprint (NYSE: S) today broke new ground with the announcement of Motorola i1, the world's first push-to-talk Android™-powered smartphone. Sleek and attractive, yet durable, Motorola i1 is the first iDEN device to carry the features of a modern smartphone including a 3.1-inch touch screen, Wi-Fi®, optimized browsing experience with the latest Opera Mini 5 browser, access to thousands of apps and a push-to-talk experience that includes exciting new features. Sprint will begin offering Motorola i1 this summer.

With more than 17 years of expertise, Sprint is the industry leader in push-to-talk, serving the world's largest push-to-talk community with millions of Nextel Direct Connect subscribers on the fastest national push-to-talk network. Nextel Direct Connect® has set the industry standard for push-to-talk worldwide. More U.S. workers communicate in less than a second with Nextel Direct Connect than with any other push-to-talk service.

"Motorola remains focused on delivering differentiated Android experiences within our product portfolio," said Mark Shockley, senior vice president, Motorola Mobile Devices. "With the Motorola i1, we're excited to offer iDEN users the opportunity to enjoy a feature-rich smartphone with push-to-talk, whether it's for work or play."

"As the first Nextel Direct Connect Android smartphone, Motorola i1 with Wi-Fi offers a powerful tool for our customers with access to thousands of applications in the Android Market™," said Fared Adib, vice president – Product Development, Sprint. "With rugged durability, a full touchscreen and 5.0 megapixel camera, Motorola i1 gives push-to-talk customers a compelling smartphone that can withstand some of the harshest environments."

Motorola i1 enhances the push-to-talk experience with the ability to view who is calling regardless of what application you are in, whether you are managing your emails, checking your calendar, composing messages or viewing media.

Must-have Features and Nextel Direct Connect

With solid body construction that meets military specifications for protection against dust, shock, vibration and blowing rain1, Motorola i1 is designed for those who work and play hard. It automatically syncs and integrates office and personal information such as emails, calendar appointments and contacts. Key features include: Popular business tools such as Microsoft Document Viewer and corporate sync ensure Word or PowerPoint files can be accessed on the go.

Message entry is a breeze with both Android standard virtual keyboard and Swype™ virtual keyboards being offered.

A 5 megapixel camera with flash, geo-tagging and panoramic capabilities provides crisp photos and clearly displays them on the vibrant 3.1-inch HVGA screen. Video can also be recorded and stored on a provided microSD for sharing or future viewing straight from the device.

The latest Opera Mini 5 browser enables quick browsing over the Nextel National Network and Wi-Fi. The Android browser allows you to see web pages and Flash 8-enabled sites in full view using Wi-Fi.

Motorola i1 can be continuously customized with thousands of applications from Android Market™.

Application development information for Motorola i1 is available on the Sprint Application Developer web site at www.sprint.com/developer. Sprint offers developers a free sandbox with iDEN capabilities to test their apps. Sprint is a charter member of the Open Handset Alliance™ and the Sprint Application Developer Program has been providing tools for third-party developers since Sprint first launched the Wireless Web on its phones in 2001.

In addition, Motorola provides developers with broad market reach through MOTODEV, the company's global program for developers and independent software vendors (ISV). MOTODEV offers a streamlined path into multiple distribution channels including Android Market™ and operator channels. Developers interested in Android application development with Motorola can visit: http://developer.motorola.com.

New Relationship with Mike Rowe

In addition to introducing Android into push-to-talk devices, Motorola is also bringing a new face to its iDEN portfolio: Mike Rowe. Mike has worked as an apprentice at more than 250 of the toughest jobs in America, and his experience and reputation as a hard worker are a perfect fit for Motorola's iDEN portfolio. The new relationship announced today will feature Mike as a spokesperson for Motorola's rugged push-to-talk devices.

"Typically, the work I've done tends to take its toll on my phones and I end up breaking 'em on the job," said Mike. "It'll be fun to use one that's not afraid of a little dirt."

Motorola is also supporting mikeroweWORKS, a public relations campaign for skilled labor that Mike launched on Labor Day of 2008.

"It's really gratifying to see some big companies getting behind the notion that working hard is just as important as working smart," said Mike. "I'm happy to talk about a phone that can do both."

Availability and Pricing

Motorola i1 will be available through Sprint in North America in the summer of 2010. Customers interested in Motorola i1 can pre-register at www.sprint.com/motoi1 orwww.motorola.com.

Motorola i1 offers advanced data capabilities that will require activation on a plan that includes unlimited data. For just $69.99 per month Sprint's Everything Data 450 plan with Any Mobile, AnytimeSM gives customers unlimited calling with any U.S. wireless user, unlimited Direct Connect and Group Connect®, and unlimited nationwide texting, email, web browsing and GPS Navigation. (All price plans exclude surcharges and taxes). Sprint Everything Data plans automatically enroll customers in the Sprint Premier loyalty program providing annual device upgrades, discounted accessories and other money-saving benefits.

Sprint's business customers can also select Sprint Business Advantage Messaging & Data PlansSM, starting at $59.99 per month. This includes unlimited Direct Connect; Wireless Web; unlimited text, picture and video messaging; 200 anytime minutes with nationwide long distance and Any Mobile, Anytime, unlimited nights and weekends starting at 7 p.m. and GPS Navigation.
[via Motorola]