Motorola ET1 Android tablet is 7-inches of business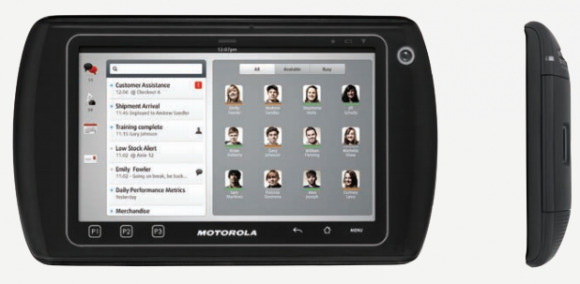 This week we're bearing witness to Motorola's newest tablet effort, the ET1, a 7-inch Android device made to fill the enterprise gap left by BlackBerry and the Windows crew, pushing simplicity and ruggedness amongst its qualities. It's got a 1GHz unnamed dual-core processor, Android 2.3.4 Gingerbread with enhanced enterprise functionality, and a 7-inch capacitive 1024 x 600 pixel resolution display covered with Gorilla Glass. Rare to tablets, this device has a replaceable battery (at 4620 mAh) and will be weighing in at 1.4 pounds. Will this device find its place where Motorola aims it to sit, in the business world, or will it crash under pressure from the consumer market?
Motorola notes that they hope to keep this tablet under $1000 USD – we should hope, goodness gracious! What you're getting here is no iPad, it's no XOOM, it's a business machine, modified by Motorola to include multiple user logins, point-of-sale tools, and built-in encryption for its 8GB of on-board storage. In addition, this tablet can stand the heat: temperature drops, that is, between -4 and 158 degrees Fahrenheit, so you'll be able to use it out in the lovely Arizona heat if you wish.
Only a single wi-fi-enabled version is set for release at the moment, but Motorola has noted that they plan on releasing to carriers in the future. With a tablet that's made with Enterprise in mind, you want safety of your information above all else. Price shouldn't matter, as long as it'll keep you safe. Usability should matter, but certainly this takes second seat to the security of your precious business information – that much should be obvious to any business owner working with automated account keeping. Moving to mobile might scare the heck out of you, but what do you know? There's a bonus feature that'll give you that final level of security:
You can remote access this tablet so that IT managers can wipe it clean if lost or stolen. How's that for instant karma?
You can expect to see this tablet in enterprise hands by the end of 2011.